Samsung Securities says 7" 'iPad mini' coming in Q3 2012, Apple investigating flexible panels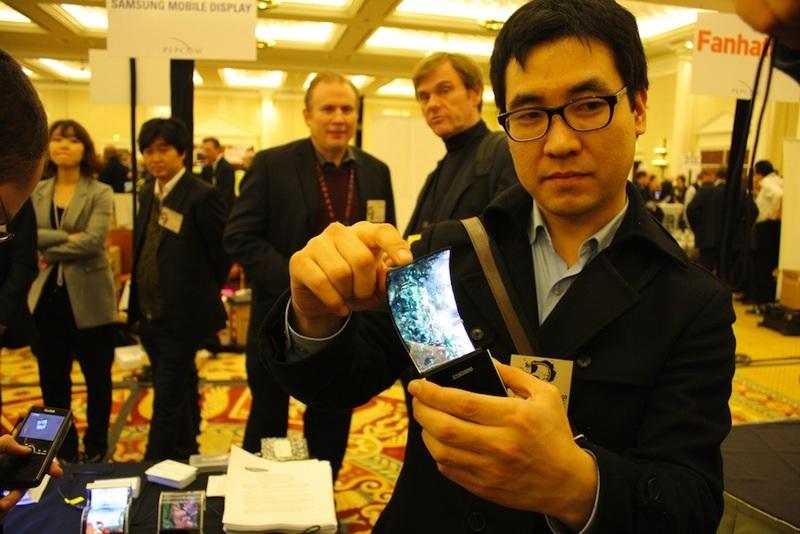 A leaked document from Samsung's investment bank has revealed that the firm believes Apple is planning to release a 7-inch "iPad mini" device in the third quarter of 2012 and is interested in flexible AMOLED panels for future generations of its tablets.
OLED-Display.net claims to have obtained the official document, which is dated December 2011, from "an anonymous user" at Samsung.
According to the research note, which discusses the state of AMOLED in the industry, analyst JungHoon Chang predicted Apple will release the third-generation iPad in the first quarter of 2012 and "a new 7-inch product temporarily referred to as the iPad mini" in the third quarter of this year. Chang also appeared to confirm the use of "higher-resolution IPS panels" in the next-generation iPad.
Chang added that Sharp is "trying to produce" IGZO LCD panels for the iPad at its 8G lab, but may not have been successful in mass producing the screens in time for the so-called "iPad 3," which is expected to be unveiled at an Apple media event next week.
The analyst went on to note that Apple "may yet decide" to incorporate flexible panels into future iPad models, if panel makers such as Samsung Mobile Display (SMD) can increase yields of flexible AMOLED panels and improve resolution. Currently, SMD can produce just 54 million AMOLED panels annually, even if it converted its 5.5G line for tablet production, Chang said.
Samsung Mobile Display showing off a flexible display at CES 2011. Source: OLED-Display.net
As such, Samsung's AMOLED production is likely not yet ready to meet Apple's demands for iPad orders. For instance, another analyst predicted this week that Apple will sell 55 million third-generation iPad units in 2012 due to "significant" hardware improvements such as the expected Retina Display, rumored support for Siri voice recognition and possible 4G LTE connectivity.
Samsung itself has been a major proponent of AMOLED screens and has made use of the technology in its Galaxy S and Galaxy S II smartphones and its Galaxy Tab 7.7 tablet. Though Apple CEO Tim Cook was said to have met with Samsung executives to discuss using AMOLED for the iPad, Apple is believed to have passed on the displays for its third-generation iPad, in part because of concerns over production volume and pixel density and quality.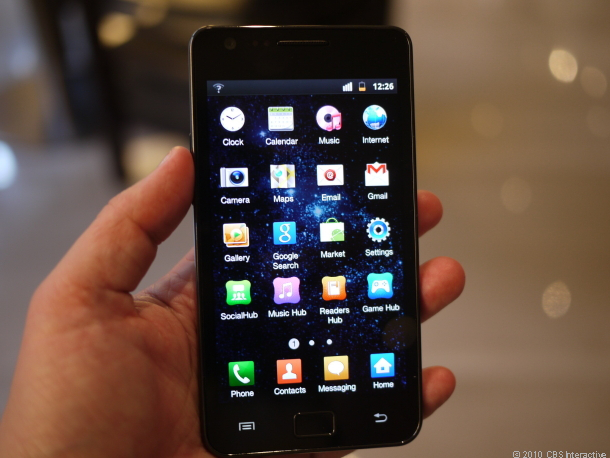 Samsung Galaxy S II. Source:
Cnet
.
The South Korean company announced last month that it will spin off its LCD manufacturing business into a separate company later this spring. The move is expected to allow the resulting LCD business to merge with SMD into a new company tentatively named Samsung Display Co., Ltd. One reported reason for the spin-off is to alleviate concerns from clients, such as Apple, who are purchasing components from the LCD side while simultaneously competing with products coming out of the company's consumer electronics arm.
The leaked Samsung Securities document emerges just days after a separate rumor claimed Apple's supply chain partners are likely to begin volume production of a 7.85-inch iPad as early as the third quarter of 2012. Last month, The Wall Street Journal lent credence to claims that Apple is working on a smaller iPad with a report claiming that Apple was testing 8-inch form factor devices with a similar screen resolution as the iPad 2.
However, talk of a smaller-sized iPad has drawn skeptical looks from some who cite comments from late Apple co-founder Steve Jobs dismissing the possibility of a 7-inch tablet. "The reason we [won't] make a 7-inch tablet isn't because we don't want to hit that price point, it's because we think the screen is too small to express the software," Jobs said during a conference call in 2010.