Apple teases there is 'a lot to look forward to' in 2012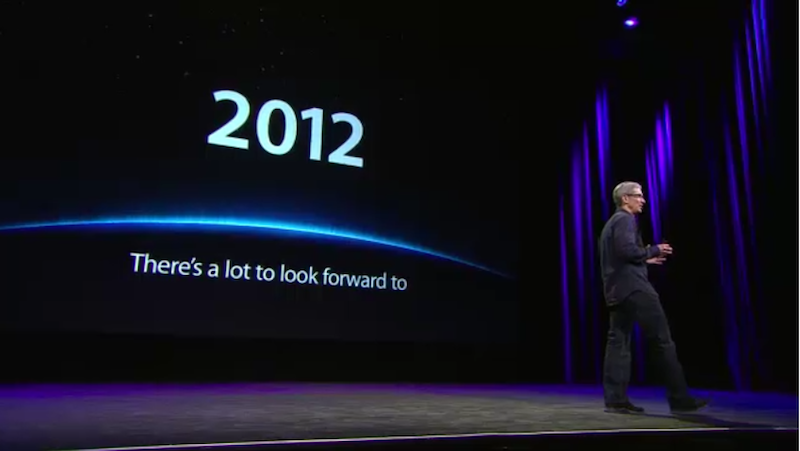 During Wednesday's keynote, Apple CEO Tim Cook teased that the company is "just getting started" in 2012, noting that customers have "a lot to look forward to" this year.
Cook wrapped up his presentation at the Yerba Buena Center for the Arts in San Francisco, Calif., by calling attention to Apple's innovation and hinting at what's to come.
"Only Apple could deliver this kind of innovation in such a beautiful, integrated and easy to use way. It's what we stand for," he said of the new iPad. "And across the year, you're going to see a lot more of this kind of innovation. We are just getting started."
To emphasize his point, he showed a slide with an image of a horizon, the year 2012 and the words "There's a lot to look forward to."
Arguably the most-anticipated product rumored to be in Apple's 2012 product roadmap is a connected television set. One analyst claims such a device could arrive as early as mid-2012. He is in the minority, though, as a number of prognosticators believe Apple is preparing to launch an HDTV no earlier than 2013. It has, however, been suggested by multiple sources that the company could announce the product later this year ahead of a 2013 release.
Late Apple co-founder Steve Jobs indicated to his biographer before he died that he had wanted to reinvent the television. Author Walter Isaacson even hinted that Jobs had revealed details about future products possibly related to the television industry, but he declined to disclose them as he didn't feel it was fair to the company.
Jobs' comments have fueled speculation that Apple is working on a full-sized television. Multiple reports (1, 2) have claimed that Apple has already built prototypes of the so-called "iTV."
Apple is also expected to radically redesign its MacBook Pro lineup this year. AppleInsider reported last month that Apple is planning to release 15-inch and 17-inch laptops that will draw upon design choices currently found in 11-inch and 13-inch MacBook Air models. The new laptops will likely feature Intel's Ivy Bridge microarchitecture and may even sport improved display resolutions.
The unveiling of Apple's first LTE device on Wednesday has also rekindled speculation that the sixth-generation iPhone will also include 4G connectivity. The next-gen handset is expected to arrive later this year, with one report claiming it will launch in the third quarter of 2012. It will also reportedly be "slimmer" and work across all 3G and LTE "network flavors." Given that Apple has dropped the numbered naming system for the new iPad, pundits now anticipate that Apple will also adopt its simplified naming scheme for the iPhone as well, potentially calling a new handset just "iPhone."
A particularly ambitious rumor from late last year claimed that Apple will overhaul all of its product lines this calendar year. Some have pointed out that Apple's 2011 was uncharacteristically uneventful from a product design standpoint, with mostly incremental updates to the company's existing offerings. As a result, their expectations for Apple appear to be running unusually high this year.