Apple sells out of launch-day iPads, new orders ship by March 19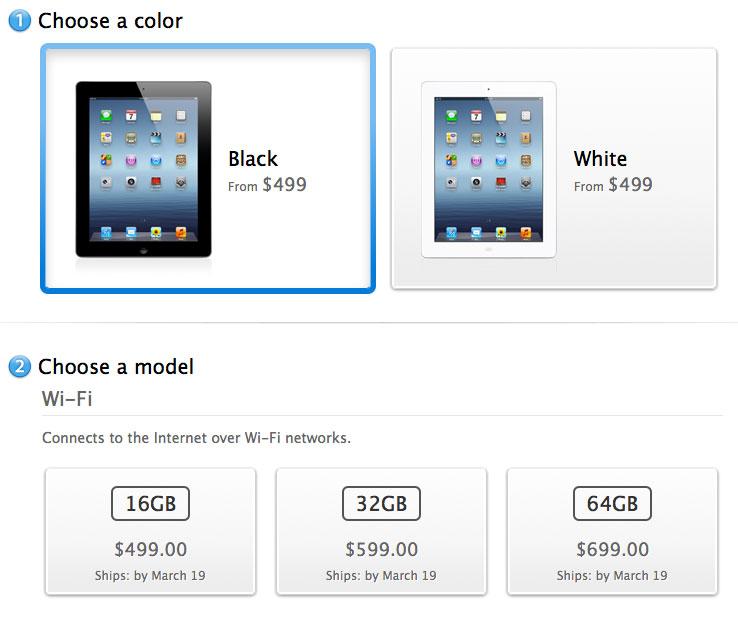 AppleInsider may earn an affiliate commission on purchases made through links on our site.
Less than two days after Apple's new iPad was unveiled, the company has sold out of launch-day preorders in its online store, as new orders are now advertised to ship by March 19.
Those who order a third-generation iPad now from Apple's online store will not receive it until after next Friday's launch date. The March 19 shipping date now applies to all models, capacities and colors sold in the U.S.
Of course, while launch-day supplies are no longer available at Apple's online store, those who wait in line at the company's retail outlets will still have a chance to get an iPad on March 16. In addition, Apple's retail partners, including Best Buy and others, will have stock on launch day.
The first sign that demand for the new iPad was outstripping supply came on Thursday, when shipping estimates for the white 4G LTE model compatible with AT&T's network were the first to have estimated shipping dates of March 19. The first models to sell out for launch day delivery were the 16- and 64-gigabyte capacities.
But now, all 16-, 32- and 64-gigabyte models, Wi-Fi-only or 4G LTE, and in black and white are all scheduled to ship three days after the official iPad launch.
Next Friday's iPad launch will be the largest debut yet for the company, as the touchscreen tablet will go on sale in 10 countries. They are the U.S., Canada, the U.K., France, Germany, Switzerland, Japan, Hong Kong, Singapore, and Australia.
As for the 16-gigabyte iPad 2, available in both white and black with Wi-Fi-only connectivity or 3G compatibility, new orders are advertised to ship in one to three business days. The Wi-Fi-only iPad 2 will remain available in a 16-gigabyte capacity as the new low-end model, for $399, while a 3G variant will cost $529.
Those who were among the first to preorder the third-generation iPad have already begun receiving notifications that their order has shipped from China. However, the iPads are not scheduled to actually be delivered until next Friday, which is the product's official launch day.