RIM's prototype BlackBerry 10 device likened to a mini-PlayBook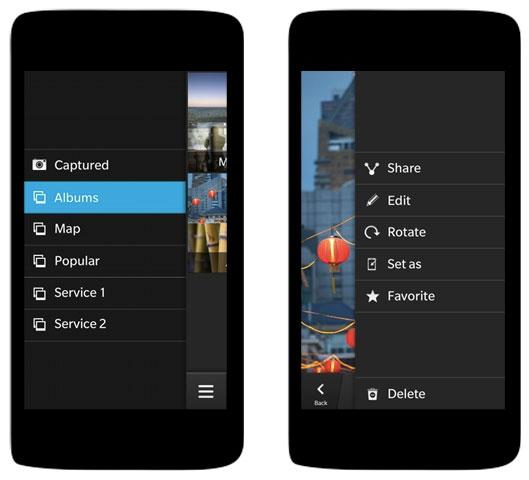 AppleInsider is supported by its audience and may earn commission as an Amazon Associate and affiliate partner on qualifying purchases. These affiliate partnerships do not influence our editorial content.
Research in Motion on Tuesday launched its BlackBerry 10 platform for developers, and also showed off a new pre-release prototype device that has been likened to a smaller version of the PlayBook tablet.
The BlackBerry 10 platform was unveiled at the BlackBerry World conference in Orlando, Fla., where the company also released the initial developer toolkit for native and HTML software development. Developers can access the beta software for free from developer.blackberry.com.
"BlackBerry 10 builds upon the core values and exceptional user experiences that have attracted more than 77 million BlackBerry customers around the world today," Alec Saunders, vice president of Developer Relations and Ecosystems Development at RIM, said in a press release. "Developers building for BlackBerry 10 will be able to easily create the kind of cutting-edge apps that deliver truly engaging experiences and 'wow' customers, whether through integration with native features and other apps like BBM or by leveraging the new signature design elements of this new and powerful mobile computing platform."
While the BlackBerry 10 platform was officially launched for developers, RIM did not show off any official forthcoming BlackBerry 10-based devices this week. Instead, the new operating system was demonstrated on a prototype device that analyst Mark Sue with RBC Capital Markets said looks like a shrunken PlayBook.
The test hardware features a 4.2-inch touchscreen at a resolution of 1,280 by 768 pixels, and lacks a physical QWERTY keyboard. In addition to resembling a smaller version of the PlayBook, Sue said it also resembles a number of Android devices already available on the market. It is not final hardware, but is intended to help developers begin designing software for the new BlackBerry 10 platform.
RIM Chief Executive Thorsten Heins "appeared confident" that his company will launch their first BlackBerry 10 device in the second half of calendar 2012, Sue said. He expects carriers are targeting an October launch, which would likely coincide with the debut of Apple's sixth-generation iPhone.
"RIM received applause from the friendly audience for new BlackBerry features that address its core productivity/message-centric customer base," Sue wrote in a note to investors on Tuesday. "The BlackBerry 10 UI (based on QNX cascades) appears similar to Microsoft Metro with quick to view notifications (which looked to us like Metro's Live Tiles) and seamless multi-tasking (e.g. view a PDF attachment, email, and list of messages all at the same time).
"RIM's new on-screen keyboard appears innovative offering predictive next word suggestions (as opposed to just word completion), and may offer the productivity that BlackBerry users are looking for in a touchscreen. RIM also appears that it will have BBM available for BB10 smartphones (addressing a prior concern),"
A number of developers were also present at this week's conference, including Gameloft and Citrix. They showed off wheat Sue described as "competitive apps" for the BlackBerry 10 platform.
"Many indicated BB10 is easy to develop for, a big improvement from legacy BlackBerry," he said. "While RIM is addressing prior shortcomings that limited developer momentum, it is still playing catch-up vs. Apple's 600k apps and Android's 400k. We believe beyond core BlackBerry fans, RIM's smaller app/content ecosystem could constrain BlackBerry's traction among the broader consumer market."
Applications created with the new BlackBerry 10 tools will run on BlackBerry 10 smartphones as well as the BlackBerry PlayBook tablet when the new platform launches on the PlayBook.
RIM attempted last week to drum up publicity for the BlackBerry 10 platform with a mock protest staged outside an Apple Store in Sydney, Australia. A flashmob staged a demonstration outside of the store, holding signs that read "WAKE UP."
Last month it was revealed that RIM is in talks with a financial adviser to assist the company in weighing strategic options as it continues to struggle in the smartphone and tablet markets. Among the possibilities for RIM are an agreement to license its smartphone software to device makers, or an outside investment in RIM.
The company reported dismal earnings late last month as three major executives, including co-founder Jim Balsillie, left the company, after reporting quarterly results so poor that the RIM had to publicly clarify it did not plan to pull out of the consumer sector. Earlier this month, RIM lost two more top executives, and the company revealed it was weighing its strategic options.