Apple retail stores 'bulging at the seams' at 8400 average square feet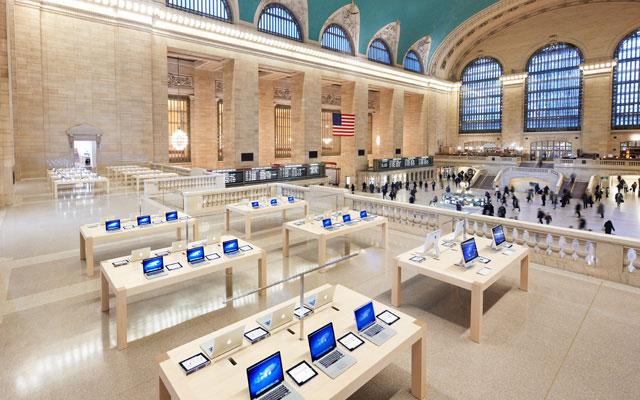 Apple's original vision for its retail operations is proving too small, as the company's stores are continuously mobbed with crowds looking to buy iPhones, iPads and Macs.
When the company's retail operations began 11 years ago, Apple initially targeted 6,000-square-foot stores as the ideal size, according to analyst Charlie Wolf with Needham & Company. As of Apple's fiscal 2011 10-K report, Apple's retail stores are now slightly larger, at 8,400 square feet per store.
But even as they have grown, Apple's retail stores are still "bulging at the seams," according to Wolf. That's because the number of visitors on a per-store basis has grown at a 15.3 percent annual rate, making the initial vision of 6,000-square-foot store just too small.
Apple's initial plans also called for the company to open around 100 stores. But at the end of the March quarter, Apple had a total of 363 retail stores open, with a third of them overseas.
"The company has had to rethink this strategy as the crowds have grown," Wolf wrote in a note to investors on Tuesday. "Apple is moving some existing stores to larger locations."
For example, Apple is currently expanding its store in New York City's SoHo neighborhood in Lower Manhattan. The project has required Apple to build a $1.4 million temporary store to serve customers while construction is underway.
Apple is also building a new, larger retail store in Palo Alto, Calif., just steps away from the original location, in order to better serve customers. The 15,030-square-foot project has been referred to by Apple as a "prototype" store that will draw on the company's more than 10 years of experience in designing iconic and heavily trafficked retail outlets.
In addition to expanding some current stores, Apple is also building new stores that are even larger. Among the new megastores are a 30,000-square-foot space in London's, Covent Garden, a 16,000-square-foot store with a giant glass cylinder in the Pudong district of Shanghai, and a 20,000-square foot space in New York City's historic Grand Central Terminal.