Apple rebrands 4G LTE iPad as 'iPad Wi-Fi + Cellular'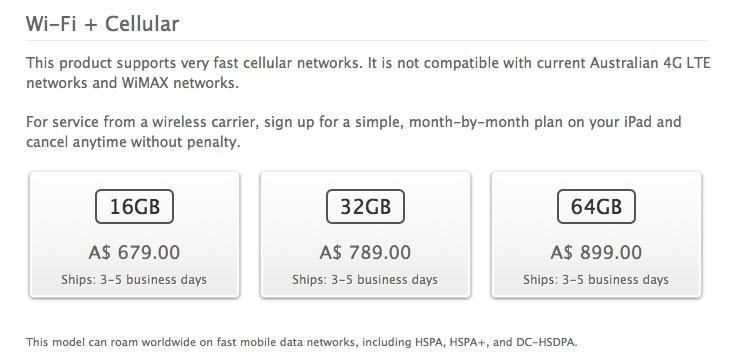 In many of Apple's stores, the 4G LTE-capable iPad has been rebranded "iPad Wi-Fi + Cellular," following scrutiny that the device is only compatible with LTE networks in North America.
The change even applies in the U.S. and Canada, where networks are compatible with the 4G LTE radio found in the third-generation iPad. It has also taken effect in both the U.K. and Australia, where local governments took issue with the fact that the new iPad was advertised as being a 4G LTE device, even though it is not compatible with any 4G networks in those countries.
Some international users complained that they felt Apple's advertising of the new iPad was misleading, and gave them the impression that it would offer connectivity with high-speed long-term evolution networks. The iPad was previously advertised as "Wi-Fi + 4G" around the world, even though it only connects to slower 3G networks outside of North America.
After the U.K. advertising standards authority approached apple about the issue, the company removed references to 4G from its website, and also edited a video that talked about 4G LTE connectivity. But the U.K. Apple Store still advertised the cellular-capable model as "Wi-Fi + 4G."
In Australia, Apple previously updated its online store to further clarify that the new iPad is not compatible with 4G LTE networks in that country. That change was made after the Australian government accused Apple of "misleading" customers with the advertising of the new iPad.
"This product supports very fast cellular networks. It is not compatible with current Australian 4G LTE networks and WiMAX networks," the Australian Apple store still reads under the "Wi-Fi + Cellular" listing. "For service from a wireless carrier, sign up for a simple, month-by-month plan on your iPad and cancel anytime without penalty."