Apple switches from AMD to NVIDIA with next-generation MacBook Pro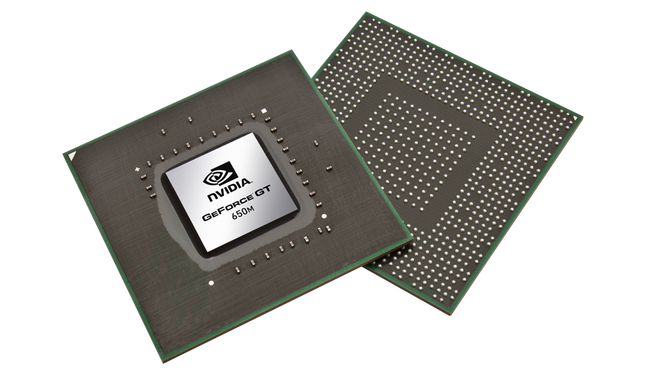 With the announcement of its next-generation MacBook Pro at WWDC on Monday, Apple showed its intent to move away from discrete AMD Radeon video cards to new Kepler-based silicon from NVIDIA.
While Apple's entire laptop lineup saw minor refreshes on Monday, the company's 15-inch MacBook Pros received a significant across-the-line graphics upgrade to NVIDIA's newest GeForce GT 650M GPU, proving May rumors of a supplier switch to be true.
The implementation of the new card is unlike Apple's traditional tiered offerings which gave customers the option of choosing between a number of different GPU models. As of Monday's refresh the only available card is the GeForce GT 650M with memory configurations being dependent on which CPU is selected.
For example, the carry-over 15-inch MacBook Pro with an upgraded 2.3GHz Ivy Bridge processor comes with a non-configurable GT650M with 512MB of memory while the same model with a 2.6GHz CPU is fitted with a GT650M with 1GB of addressable RAM. Both versions of the top-of-the-line "next generation" MacBook Pro include the latter configuration as the standard outfit most likely because of the incredible amount of power needed to drive the Retina Display.
NVIDIA's new notebook GPU, based on next-generation Kepler architecture, is highly efficient and can power the 5,184,000 pixels in the MacBook's 2,880 by 1,800 pixel Retina Display without forcing users to plug in when in discrete graphics mode.
NVIDIA's GeForce GT 650M notebook GPU is set to power Apple's 15-inch MacBook Pro lineup. | Source: NVIDIA
When Apple launched its first Intel-based MacBook in 2006 the unit included a graphics card made by ATI, the company responsible for a majority video cards used in Apple's legacy PowerPC machines.
The Ontario-based company was purchased by Intel rival AMD by the end of 2006 and subsequent Macs were using NVIDIA cards by the next year. AMD ultimately killed off the ATI moniker and now markets the GPUs under the Radeon name.
Interestingly, Apple's move away from NVIDIA came at the tail end of an Intel and NVIDIA patent dispute that saw the graphics chip maker halt production for a short period of time at the end of 2009. The tiff was ultimately settled in January 2011 for $1.5 billion.
Monday's announcement signals both a return to NVIDIA silicon and a new marketing strategy for Apple as only one card, the GeForce GT 650M, will be used on MacBook Pro models that feature discrete graphics. Apple will continue to use the Intel HD integrated chipset family which has become the default graphics baseline for all MacBooks from the Air to the Pro.