Google Nexus 7 parts estimated to cost $152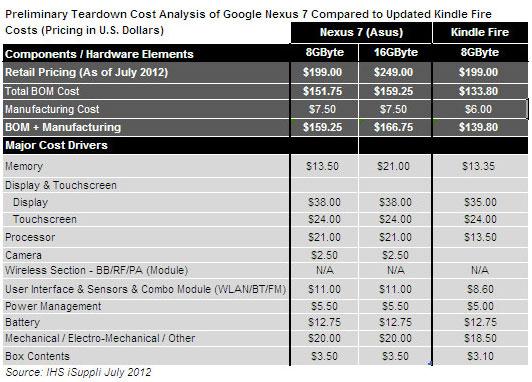 The parts that make up Google's new $199 Nexus 7 tablet have been estimated to cost $152, suggesting the company could eke out a small profit after development costs are accounted for.
IHS iSuppli published the results of its Google Nexus 7 teardown on Wednesday, and estimated that the bill of materials of the $199 8-gigabyte model is $151.75. When manufacturing expenses are added, the research firm believes the total cost is $159.25.
The bill of materials for the 16-gigabyte model, which sells for $249, is estimated to be $159.25, while manufacturing would bring the total cost up to $166.75. The bill of materials and manufacturing costs do not include other expenses, like research and development that lead to the creation of the Google Nexus 7.
Google's Android chief, Andy Rubin, admitted that Google's own profit margins for the device are extremely low. He said sales of the Google Nexus 7 through the Google Play store will provide "basically" no profit margins to the company.
Market watchers believe the Nexus 7 is more of a response to Amazon's Kindle Fire, also priced at $199, than Apple's iPad, which starts at $399 for the iPad 2. iSuppli estimates that the 8-gigabyte Kindle Fire has a current bill of manufacturing cost of $133.80, and with manufacturing costs Amazon $139.80 to produce.
Those costs are lower than estimates from last September, when the Kindle Fire was first unveiled. Though Amazon has been able to improve margins on its 7-inch touchscreen tablet over time, original estimates suggested the online retailer was losing as much as $50 per Kindle Fire sold, money the company presumably planned to offset with sales of Kindle books and other goods and content through its online storefront.
IHS believes the bill of materials from the Kindle Fire has fallen nearly $60 from the $191.65 it was estimated to cost when it first launched last November. iSuppli said Amazon has benefitted from "dramatic reductions in component pricing" that "provide a breather for Amazon in terms of the subsidy it initially paid."
"The (Nexus 7 and Kindle Fire) platforms are similar in many regards, including the use of the 7-inch display, the eschewing of 4G wireless connections in favor of Wi-Fi, support for virtually identical battery lives and the same pricing for the entry-level models," said Andrew Rassweiler, senior director, teardown services for IHS. "However, the Nexus 7 has superior specifications to the Kindle Fire, giving it a more attractive feature set that may make it more desirable to consumers."