US PC shipments drop 6% as Apple posts 4% gain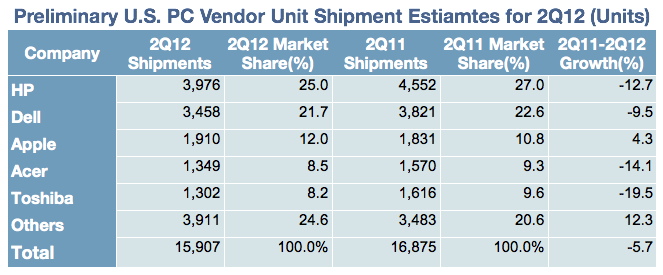 Estimated quarterly PC shipments show the overall U.S. market declined 5.7 percent year over year in the second quarter of 2012 while Apple grew 4.3 percent.
Apple was the only computer maker among the top five in the U.S. to post a year over year gain in the June quarter. All of the other top PC makers saw double-digit losses, with the exception of Dell, which fell 9.5 percent.
Apple's estimated 1.9 million Macs sold in the quarter was good for 12 percent of the market, putting it solidly in third place. Its 4.3 percent growth allowed Apple to increase its market share from 10.7 percent in the same three-month span a year ago.
In first place was HP, which saw its year-over-year shipments slide 12.7 percent, with 25 percent of the total market Gartner said. Dell came in second, controlling 21.7 percent of estimated PC shipments.
Behind Apple and in fourth place was Acer Group, which shipped an estimated 1.3 million PCs and took 8.5 percent of U.S. shipments. It saw a 14.1 percent drop from the same span in 2011.
Taking fifth in the second quarter of 2012 was Toshiba, which shipped an estimated 1.3 million PCs during the quarter and represented 8.2 percent of the market. Toshiba's year-over-year shipments fell 19.5 percent — the biggest decline among the top five.
Without Apple's growth, the industry's losses in the second quarter of 2012 would have been even worse. Gartner's data is based on desktop and mobile PCs, but does not include what it classifies as "media tablets," which are devices like Apple's iPad.
"Weakness in the U.S. public market affected the professional segment despite the high PC procurement season in the second quarter," said Mikako Kitagawa, principal analyst at Gartner. "Both government and education institutions are encountering tight budget situations. Shipments to the public sector are expected to be lower than normal seasonality."
Apple, as usual, didn't crack the top five internationally, but the market as a whole performed slightly better around the world. Overall global PC shipments were down 0.1 percent for the June quarter, according to Gartner.
Worldwide, HP was again the No. 1 PC maker, with an estimated 13 million devices shipped and 14.9 percent of the market. Nipping at its heels was No. 2 Lenovo, with 12.8 million PCs shipped and strong 14.9 percent year over year growth.
Acer Group came in third, according to Gartner, with 9.6 million PCs shipped in the quarter, 11 percent of the market, and 3.6 percent year over year growth. Dell took fourth, falling 11.5 percent from the same span a year ago and accounting for 10.7 percent of PC shipments.
Posting the largest growth in worldwide PC shipments was Asus, which surged 38.6 percent year over year to reach 6.1 million units in the second quarter of 2012. Asus accounted for 7 percent of PCs shipped during the time period.
"In the second quarter of 2012, the PC market suffered through its seventh consecutive quarter of flat to single-digit growth," Kitagawa said. "Uncertainties in the economy in various regions, as well as consumer's low interest in PC purchases, were some of the key influencers of slow PC shipment growth. Despite the high expectations for the thin and light notebook segment, Ultrabooks, shipment volume was small and little impact on overall shipment growth."
IDC results more conservative
Coming on the heels of Gartner's estimates, IDC has published its own take on both the U.S. and worldwide PC market, seeing little change barring slightly less conservative findings for certain OEMs.
IDC's worldwide PC numbers are in line with Gartner's, finding a negative growth of 0.1 percent lead by HP and Lenovo which shipped 13.4 million units and 12.8 million units, respectively. The firm estimates that Dell ranked third with 9.6 million units shipped and was followed closely by Acer's 9 million units. Both firms are in agreement with numbers for ASUS which shipped a total of 6.1 million units, according to IDC.
Of the top five global OEMs only Lenovo and Acer were able to show a growth in marketshare, with the latter only managing to eke out a 0.5 percent increase. The ThinkPad maker exhibited the strongest growth with a 25.2 percent bump, bringing the company's share of the market to within only 0.6 points of leader HP's 15.5 percent which was down 12.3 percent from the second quarter of 2011. Despite dropping 11.5 percent of the market Dell managed to cling on to the number three spot with 11.1 percent of the market.
HP's losses carried over to the lucrative U.S. market as the computer giant's share contracted 12 percent and now hovers slightly above one quarter of the market. Number two Dell was also hit with a loss and posted a negative 9.2 percent growth rate from the year ago period to finish the second quarter at 22.5 percent.
Unlike Gartner's numbers, IDC found that Apple's slice of the American market shrunk 1.1 points to end the quarter at 11.4 percent and was followed by the only company to gain marketshare Lenovo which upped its take to 8 percent, a 6.1 percent increase from 2011. Rounding out the top five was Acer's 14.3 point drop, the biggest loser of the quarter according to IDC, as the manufacturer ended up with 7.9 percent of the U.S. market.
Overall, the U.S. market experienced a whopping 10.6 percent contraction from last year which IDC attributes to economic turmoil and users waiting for Microsoft to launch Windows 8 in October.
"In this context, consumers are delaying purchases, and vendors and retailers are slowing down their PC activities to clear existing inventories. The situation is exacerbated by consumer notebook saturation, a slowing replacement cycle in the commercial sector, and the big macro-economic and political events affecting confidence and spending," said IDC Personal Computing research director David Daoud. "We don't expect PCs using Windows 8 to boost growth significantly until the fourth quarter, which leads to a conservative outlook for the third quarter."
IDC believes that Ultrabooks have not yet contributed to an expected rise in PC shipments due to high prices and the upcoming launch of Windows 8. Another factor in the flatlining market are distributor sell-outs as resellers are reticent to overstock shelves ahead of new product launches coming later this year.
"These latest results validate IDC's expectation that the second quarter would be a transition period where both economic factors and anticipation for new products in the second half of the year would result in relatively low PC shipment growth," said senior researcher at the IDC's Worldwide PC Tracker, Jay Chou. "The announcement of a Windows 8 launch date, as well as broader communication of new features in the OS, are key steps that would help to address uncertainty about new product availability and help consumers and channels plan their purchases."