Apple sells 1.7 million iPads in China during Q2 to capture 72% of market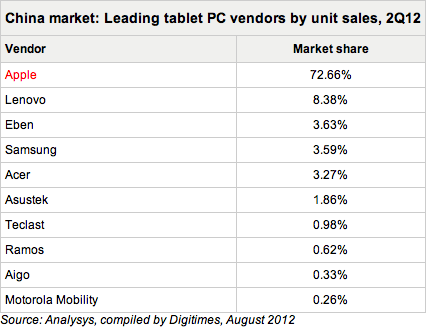 Apple dominated the Chinese tablet market during the three-month period ending July, capturing nearly 3 out of every 4 purchases despite not being able to sell its latest iPad in the mainland until the final week of the quarter.
The Cupertino-based iPad maker has never broken down sales of its iOS devices by region due to competitive concerns, leaving analysts and industry watchers to estimate sales on a per-country basis through anecdotal evidence and market research reports published by third parties.
One such firm, China-based Analysys International, reported Wednesday that Chinese consumers combined to purchase 2.34 million tablets during the second quarter, a more than 63% increase from the previous year.
Apple emerged as the dominate force by snagging a whopping 72.66% of those sales, the firm added. Extrapolating that data would bring Apple's total estimated unit sales in the region to roughly 1.7 million, or more than eight times greater than its closest competitor Lenovo, who came in a distant second with a 8.38% share, or approximately 196,000 units.
Rival Samsung fared much worse, coming in fourth with a 3.59% share amounting to just 84,000 tablets. It was edged out by Eben, who took third place with a 3.63% share, or 84,942 units.
Apple's success in the region comes despite not being able to sell its third-generation iPad in mainland China until July 20th — just days before the end of the second quarter. The launch of the device was held up by a trademark dispute with a local firm called Proview, which ultimately accepted a $60 million settlement to resolve the issue and allow Apple to move forward with the launch.
With its commanding lead in the emerging Chinese tablet market remaining largely unchecked, Apple stands to benefit tremendously from the market opportunity moving forward. Mainland China — the world's largest country — is comprised of more than 1.3 billion people, providing ample space for the iPad maker to grow its tablet sales exponentially over the next several years.