Apple files hint at re-engineered iMac and Mac Pro models, potentially without optical drives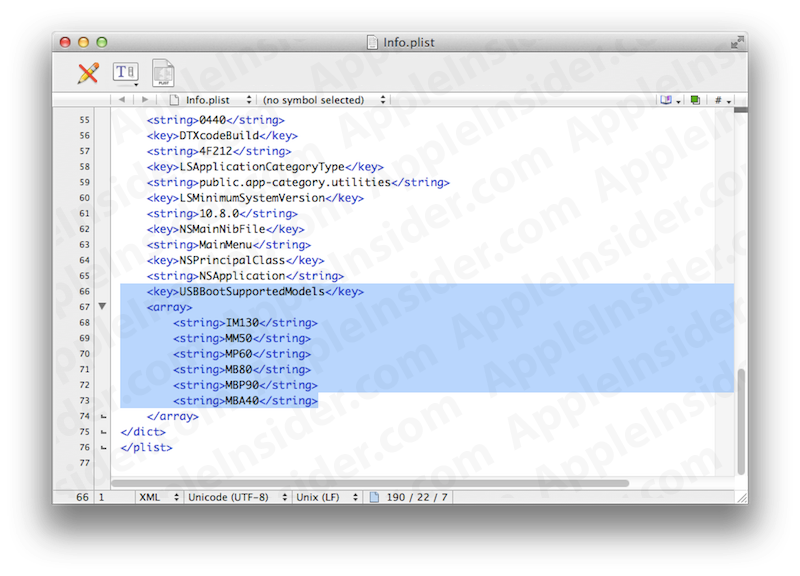 Internal configuration files in Mountain Lion make apparent references to yet-unreleased new generations of Apple's iMac (iMac13,0) and Mac Pro (MacPro6,0), both in the context of USB booting options that indicate the new Mac desktops could, for the first time in nearly 20 years, lack built-in optical drives.
The discovery, made by an AppleInsider reader Jason, appears in a configuration plist file used by Boot Camp Assistant to designate the Mac model versions capable of supporting either a optical boot disc, or alternatively, a USB flash drive volume capable of installing Windows to a Boot Camp partition.
While all modern Macs can boot OS X from a USB drive, Apple's Boot Camp Assistant references the plist to display a listing of newer Mac models with EFI-level support for booting a legacy operating system from a USB flash drive. The primary advantage to using a USB flash drive to create a bootable Windows 7 volume from an ISO (disc image file) is if you lack an optical drive burner.
The file lists a series of Mac models that support USB flash drive booting, referring to each model by its initials and its internal architectural version number. While it includes MacBook and MacBook Pro models with optical drives, most of the Macs in the supported list are optical free.
The list of models (below) include the "MM50" (the Mac mini 5,x series, also known as the "Mid 2011 Mac mini", which is the first non-Server version of the Mac mini to lack an optical drive), along with other optical-free models including the MacBook Air.
New sixth generation Mac Pro
Two of the models in the USB-boot support listing refer to Macs that haven't been released yet: the MP60 (the six generation Mac Pro, or MacPro6,x) and IM130 (pointing to the 13th generation iMac, or iMac13,x).
The current Mac Pro, updated only slightly in June during Apple's Worldwide Developer Conference, hasn't changed enough over the previous model for Apple to assign it a new architecture designation; it is still internally referred to as the "Mac Pro 5,1" just like the Mac Pros that originally shipped back in August 2010.
Apple's conspicuous lack of timely updates for the Mac Pro (and its relatively small and shrinking proportion of Apple's Mac sales mix) has created the expectation that the company might eventually discontinue its full sized desktop the same way it terminated its rack mounted Xserve, an idea Apple reportedly evaluated as an option.
However, Apple's chief executive Tim Cook confirmed in June that Apple would not be killing the Mac Pro, stating instead in an email to a concerned customer, "Our Pro customers like you are really important to us. Although we didn't have a chance to talk about a new Mac Pro at today's [WWDC] event, don't worry as we're working on something really great for later next year. We also updated the current model today."
Cook's choice of the words "working on something really great," indicates Apple plans to significantly update its Mac Pro model, which has carried forward the same basic aluminum box design introduced for the 2005 PowerMac G5.
While removing its optical drive would do much less to save space and thickness compared to Apple's notebook designs, it's likely that an all new Apple desktop aimed at professionals would rethink its use of slow, bulky and essentially obsolete optical drive devices and perhaps instead incorporate high performance SSD RAID options for a reduced profile.
Apple's current iMac (referred to internally as the iMac 12) was last refreshed in May 2011, indicating that it's overdue for a refresh. A new 13th generation iMac generation identified as "iMac 13,2" has already appeared in Geekbench benchmarks.
John Poole of Primate Labs, which developed the Geekbench software and maintains user submitted scores, told AppleInsider that while some machine benchmark reports on the company's site refer to themselves a "iMac 13,2" not all of them are genuine Apple machines. Some are "Hacintoshes," or Windows PCs configured to boot and run Apple's OS X software.
At the same time, at least one of the new Geekbench reports (below) calling itself an "iMac 13,2" does appear to be real, Poole noted. There is however, no way to determine if the new iMac model used to submit the test incorporated an optical drive or not.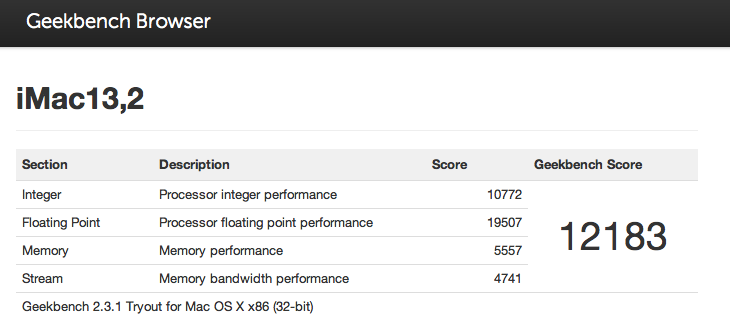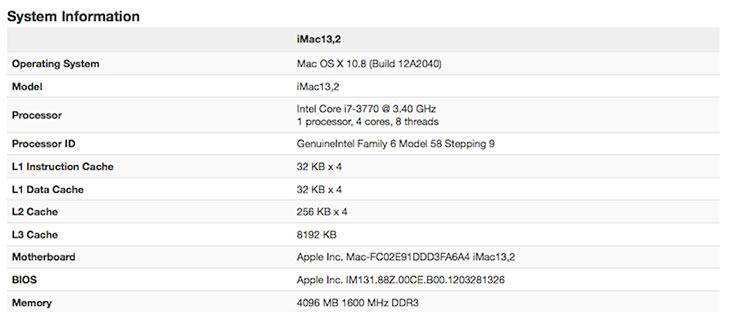 "There are a number of things to look at when trying to figure out if Geekbench result is from an unreleased Mac or from a Hackintosh," Poole explained. "The first thing to examine is the operating system version and build number. Unreleased Macs run unreleased builds of Mac OS X, while Hackintoshes run public builds of Mac OS X (and sometimes they're a couple of builds behind)."
Poole added, "the next thing to examine is the processor. Apple has not (and probably will not) use unlocked processors (e.g., the Intel Core i7-3770K) in a Mac, while the Hackintosh community prefers unlocked processors. If a result has an unlocked processor, it's probably a Hackintosh.
"Finally examine the motherboard and BIOS strings. If the result is from an unreleased Mac then both strings should contain the model id (e.g., iMac13,2) in some shape or form. Both strings should also not refer to any of the popular Hackintosh distributions (e.g., tonymacx86 or multibeast)."
Unlike the Mac Pro, which was designed to accommodate a series of large hard drives, full size graphics cards and provide a number of open PCI expansion slots, Apple's iMac is designed to be a slim, elegant system not much larger than a standalone display. Removing its optical drive would have a much larger impact in making it more space efficient, and in particular, thinner.
To this end, people familiar with the matter told AppleInsider in April that the company has been working on a pair strikingly slimmer, lighter, and more elegant models that will feature of profile similar to today's latest LED TVs, though radiating a bit more panache.
Similarly, patent filings reveal Apple has also been working to once again slim down the peripherals that ship with its industry-leading all-in-one desktop, with the designs referenced in those filings having the potential to accompany the next iMac update.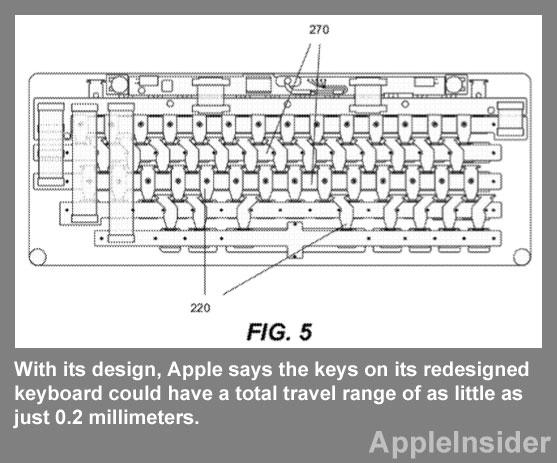 Apple works to abandon the disc
The appearance of new Mac Pro and iMac models in the USB booting support list doesn't definitively mean the models won't have optical drives, as it also lists MacBook and MacBook Pro models that do incorporate an optical drive.
At the same time, Apple has clearly indicated in the newest Mac mini and Retina Display MacBook Pro that it plans to get rid of optical disc drives as soon as possible across the board, providing an external USB drive as an option for users who need one.
Users increasingly have fewer opportunities to use optical drives, as the bulk of third party software is now available as a digital download either directly from the vendor or through Apple's App Store. Apple also sees digital distribution as the future of music and movies, as exemplified in Apple TV, which has never included an optical drive.
The company has never supported any new HD optical disc formats on its products, including Microsoft's ill fated HD-DVD or Sony's Blu-ray format, despite initially being involved in the Blu-ray standardization process. Instead, Apple has put its resources behind developing increasingly higher definition audio and video formats that it can distribute electronically through its own iTunes Store.
Apple even developed an alternative iTunes Extras web based multimedia format to deliver the same kind of interactive menus supported on DVDs, with a parallel solution for albums it called iTunes LP.
In addition, Apple introduced technologies intended to wean its Mac platform from optical disc dependance with the MacBook Air, which was designed to remotely share disc drives available on the local network (even remotely install OS X) via Remote Disc and handle Migration Assistant tasks over a wireless network connection.
Modern Mac models can now apply system updates, such as OS X Mountain Lion, entirely via digital downloads, while Apple's newest Mac models can boot legacy operating systems from USB flash drives.
By ditching the need for a built in optical drive, Apple can not only make new Macs smaller, thinner and more energy efficient, but will also increase their overall reliability, as optical drives become one of the last complex physical mechanisms inside computers.
Apple has similarly helped to pioneer the mainstream adoption of Solid State Drives as an alternative to the more fragile mechanical design inherent in conventional Hard Disk Drives. Its most popular general computing device, the iPad, makes no use of either optical drives or HDD mechanisms.