Study: iPhone 5 web usage surges past Samsung Galaxy S III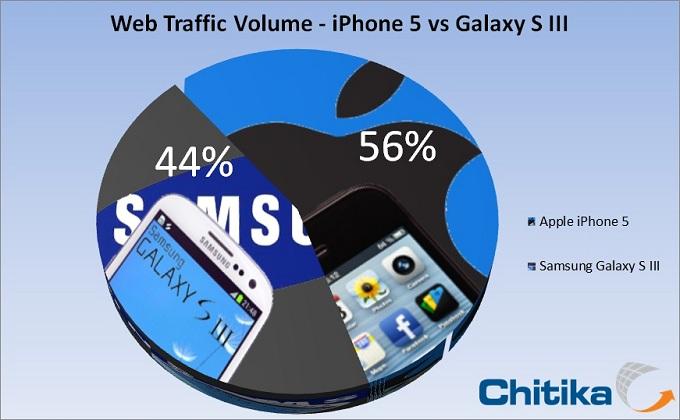 AppleInsider may earn an affiliate commission on purchases made through links on our site.
In a study released on Friday, it was revealed that usage of Apple's iPhone 5 has passed that of Samsung's flagship smartphone, the Galaxy S III, after being available for less than three weeks.
Ad network Chitika's research arm, Chitika Insights, analyzed the web usage rates of the two competing devices between Oct. 3 and Oct. 9, and found that Apple's iPhone 5 accounted for more traffic than Samsung's Galaxy S III, a device which has been on the U.S. market for nearly four months.
The quick rise in iPhone 5 ad impressions across Chitika's network is largely thanks to the device's high adoption rate, which caused stockouts mere hours after preorders went live in September. In comparison to the iPhone 4S launch, preorders for Apple's newest handset came in at above two million units, more than doubling the legacy model's sales numbers from last year. Overall, Apple sold a record-breaking five million iPhone 5s over its first weekend of availability.
The report goes on to speculate that the sixth-generation iPhone's 4G LTE connectivity helped to bring more users online, as the fast data speeds allow for a more enjoyable web browsing experience.
While optimizing online content for both devices is still the smart move for businesses targeting mobile consumers, this comparison emphasizes iPhone users still being the most active – and hence marketable – users of the mobile Web.
In its study, Chitika sampled millions of mobile ad impressions, focusing only on the iPhone 5 and Galaxy S III to get a direct comparison between the two smartphones.