Rumor: Image allegedly shows 9.7-inch iPad with Lightning port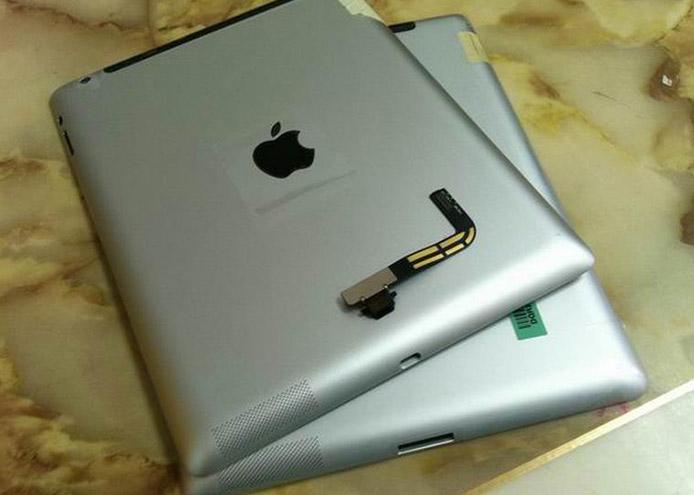 An image released on Saturday claims to show a slightly modified third-generation iPad with a Lightning connector port, possibly pointing to an imminent release of the rumored device as part of Apple's move to bring parity across its iDevice lineup.
It should be noted that the authenticity of the image cannot be confirmed and is thus provided for purposes of discussion only.
The photo, posted to Apple.pro, shows a full-size iPad back case with a small dock hole seemingly meant to support Apple's proprietary Lightning connector, which was introduced with the iPhone 5 in September.
The supposedly new shell is shown resting atop the current iPad with 30-pin dock connector, illustrating the difference in size between the two cutouts.
Sitting on top of the purportedly refreshed case is a Lightning flex cable, in this case black, which appears to line up perfectly with the slot. It is unclear if the component will be used in the revamped iPad.
Apple is expected to bring Lightning connectivity to all of its iDevice products as they are refreshed, offering compatibility with upcoming accessories. The proprietary standard is seen as a long-term investment for the company, and is expected to have a lifetime of ten years, mirroring that of the legacy 30-pin dock connector.
It is unknown if and when Apple will release the slightly modified iPad, but it may take the opportunity to do so at a special event on Tuesday, where the company is widely expected to unveil the 7.85-inch "iPad mini."