Apple focuses on the high end with 13-inch Retina Display MacBook Pro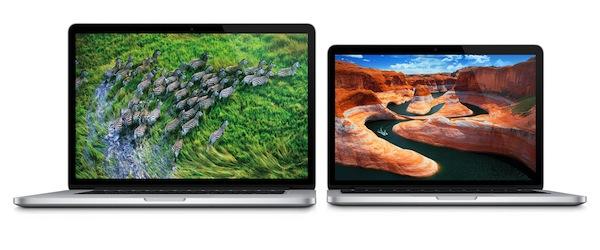 AppleInsider may earn an affiliate commission on purchases made through links on our site.
Apple's new 13 inch MacBook Pro Retina Display expands the company's high-end family of notebooks, casting a high-end halo over over its mobile notebook offerings.
At a time when PC sales are plateauing and profit margins for many manufacturers are shrinking in a race to build cheaper netbooks (such as Samsung's $250, web-only Chromebook), Apple is asserting its leadership position to build the state of the art in notebooks.
With a screen regarded as a "engineering marvel," and packed with over four million pixels, Apple noted that the new Retina Display of its 13 inch MacBook Pro is the "second highest resolution notebook ever," behind only its larger 15 inch counterpart.
No other PC maker has bothered to develop a notebook with such a high resolution screen because the reason for developing it was not readily apparent. Consumers weren't actively asking for it, any more than smartphone users were asking for a tremendous leap in pixel density when Apple introduced iPhone 4 two years ago.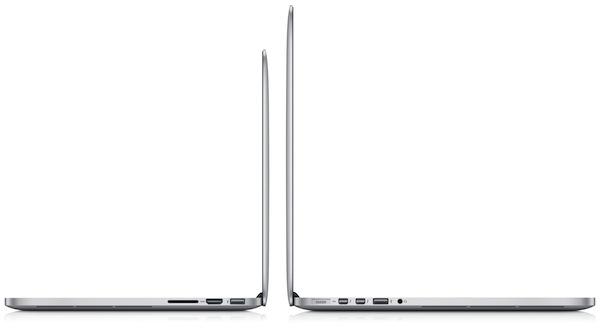 Apple subsequently brought its Retina Display to the iPad this spring, and incrementally released its 15 inch MacBook Pro this summer. The engineering required to support such pixel-dense displays goes well beyond just hooking up a new panel. There's more pixels to push, so additional graphics processing is often necessary.

On top of the hardware engineering, software also needs to be rewritten for resolution independence. This requires changes to the operating system, but also to third party apps, meaning that Apple has to facilitate developer support to make it relatively easy for its App Store ecosystem to add Retina Display support to their own apps. And of course, Apple has had to do the same to its own first party titles, including Aperture, Final Cut Pro, and a variety of apps bundled in OS X.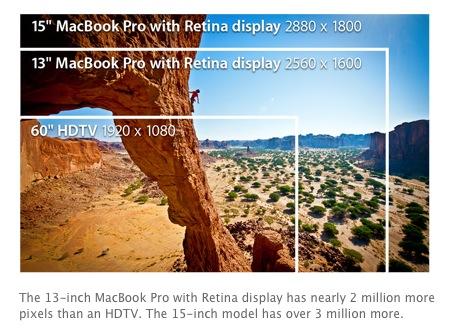 More expensive all the way through
The result is an expensive system. The cheapest 13 inch model starts at $1699, compared to basic PC notebooks selling for $600 to $800, and 13 inch netbooks selling for as little as $250.
Apple didn't just give its MacBook Pros a premium screen. The new 13 inch model was also designed to be 25 percent thinner, shedding its optical drive and conventional mechanical hard drive for solid state flash storage (which also accelerates booting by 2.4x and file copying by 3.7x) and using a new asymmetric battery design designed to provide 7 hours of use and 30 days of standby.
The new Retina Display MacBook Pros sport revamped audio systems reviewers described as "excellent" and a dual mic design used both for noise reduction and, as the company notes, "when you use Dictation, they create an adaptive audio beam that intelligently adjusts to detect your voice."

The new systems also drop FireWire and Gigabit Ethernet to provide dual Thunderbolt ports (which can support external FireWire and Gigabit Ethernet interfaces) as well as the convenience of HDMI video out. Apple also says its new Retina Display MacBook Pros use an NVIDIA GeForce GT 650M graphics processor based on the "next-generation Kepler architecture with 1GB of dedicated video memory" that provides "up to 60 percent faster graphics performance than any notebook we've ever made."
Designed to compete with the future
As with its iPhone, iPod touch and new iPads, Apple had been developing its new products to be good enough to stick around and compete with other makers' products next year.
Apple continues to sell its standard MacBook Pro models at lower price points (around $500-600 cheaper), just as it still markets iPhone 4 and the fourth generation iPod touch from 2010, and the iPad 2 introduced almost two years ago.
This is a significantly different strategy compared to other companies, most of which have commonly dropped ongoing software support and upgrades for devices they still sell or which are still being used under a mobile contract. Particularly in regard to notebooks, it appears that PC makers are engineering systems to be cheap, rather than to take Apple on in the high end. And no other computer maker engineers both the operating system and notebook hardware.
Apple has taken this a step further by customizing more and more of its components, to the point where it no longer even uses off the shelf SSDs. Apple's deep investments in engineering are both the result of and the reason behind its increasing economies of scale, a cross pollination of extremely high volume sales of iPods and iOS devices, and strong vertical integration from the chip level through hardware engineering and design right through to the core OS and application level.
Apple historically led in the engineering of futuristic technology, from investing in the development of the first affordable graphical operating environment to developing QuickTime for working with rich media and video editing at a time when generic PCs struggled to handle audio playback. However, Apple lost its focus on investing in technology and didn't get it back until the return of Steve Jobs.
The culture of aggressively pushing the state of the art that Jobs rebuilt at Apple appears to be alive and well; it remains to be seen if other companies can duplicate this on their own and provide Apple with similarly strong competition.
So far, Samsung has only demonstrated a similarly high pixel density notebook; it has indicated no plans to actually sell one.