Latest Apple stock selloff blamed on misinterpreted story on iPhone sales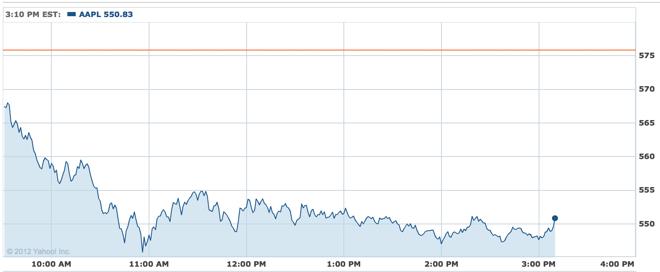 AppleInsider may earn an affiliate commission on purchases made through links on our site.
With shares of Apple stock dropping more than 5.5 percent during trading Wednesday, a handful of potential factors have been blamed, including a misinterpreted news story on iPhone sales. But one analyst believes the losses have created another buying opportunity for prospective investors.
While the stock market overall has enjoyed modest gains on Wednesday, AAPL was down more than 5.5 percent at points on Thursday, contributing to a dip in its own index, the NASDAQ.
Gene Munster of Piper Jaffray sees the selloff as a buying opportunity for other investors, with share prices still hovering around the midpoint of AAPL's 52-week range. And Munster thinks that Wednesday's decline is due, at least in part, to a misinterpreted DigiTimes story.
"A DigiTimes article from today suggests that iPhone 5 is selling well based on comments from wireless chipset providers and seems to suggest upside to the Street's 43-45 million estimate for December," Munster wrote on Wednesday. "In the same article, DigiTimes is suggesting a 20% q/q decline in Apple's demand for parts and components in March. We believe this 20% decline is to be expected coming off of a launch quarter and do not believe it is an indication of how units might trend in March."
The analyst also noted that earlier news of China Mobile carrying Nokia's Lumia smartphone may have scared off some shareholders who might think that the iPhone's presence in China will suffer as a result. Investors area eagerly awaiting an anticipated deal between Apple and China Mobile, which is the largest mobile carrier in the world.
"We believe some investors have speculated that China Mobile will carry the Lumia instead of the iPhone," he said. "We do not believe this is true and note that China Mobile already carries multiple smartphones from multiple vendors. We continue to expect China Mobile to add the iPhone in the back half of 2013."
Another factor, according to Munster, is a technical breakdown in shares. Munster believes this issue is already priced in to Apple's stock, but the full effect may not yet have been completely felt.
"Apple's simple 50 day moving average is nearing its 200 day moving average, which is a negative technical sign," Munster wrote. "Based on our conversation with Piper Jaffray Technical Analyst Craig Johnson, we believe that for this technical indication, most of the damage has been done to AAPL, but there could be a worst case additional 10% move to the downside which could be the next meaningful area of support."
Munster also cited the role that margin-type purchases play in the value of Apple stock. Specifically, COR Clearing, a clearing house, has raised its margin requirements on Apple from 30 percent to 60 percent.
"While we don't know what percentage of AAPL shares are on bought on margin, we do not believe the requirement change has anything to do with the fundamental health of AAPL," he said.
Wednesday's selloff comes less than 24 after the news that Apple Senior Vice President of Internet Software and Services Eddy Cue recently cashed in 15,000 shares of company stock for an estimated $8.76 million. Cue and other executives at Apple have sold millions of dollars worth of shares in recent months in anticipation of a capital gains tax increase that will take effect on Jan. 1, 2013.
Despite Wednesday's pullback, Munster maintained his Overweight rating with a price target of $900 per share, and AAPL remains up more than 35 percent on the year.
It's been a rough few months for Apple stock since the company's quarterly earnings report. Shares hit their lowest point of around $525 in mid-November, off 28 percent from their peak in September.