Apple's Fusion Drive now available on new entry-level 21.5" iMac orders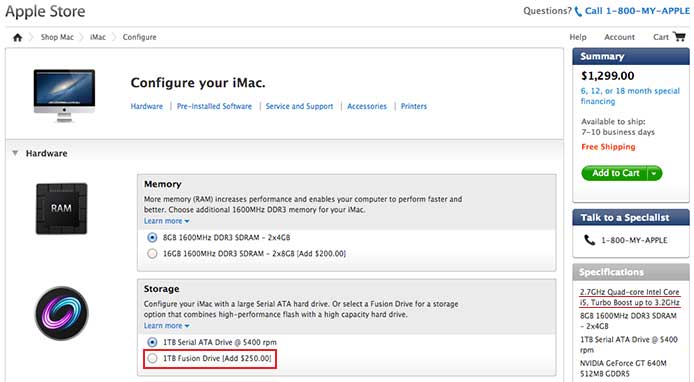 Apple is now offering the Fusion Drive as a build-to-order option when ordering the most affordable 2.7GHz 21.5-inch iMac model, a change in availability from October when the system was limited to high-end versions and the 27-inch iMac.
The revision to the Online Apple Store's build-to-order options, first spotted by French blog MacGeneration and confirmed by AppleInsider, adds Apple's hybrid Fusion Drive as a $250 upgrade to the base model 21.5-inch iMac.
Introduced in October 2011 alongside the redesigned iMac, Apple's Fusion Drive is a hardware and software solution that promises the performance of a solid state drive with the storage capacity of a hard drive. Initial tests showed the hybrid drive to cut startup times in half while increasing read and write speeds significantly when compared to a traditional 5400-rpm hard drive.
The software driving the technology is built into OS X Mountain Lion and join a 128-gigabyte SSD with either a 1-terabyte or 3-terabyte HDD to form a single addressable volume. Integral applications and the operating system itself are permanently stored on the flash memory while other files are store on the slower spinning drive. The system monitors a user's operations and swaps frequently accessed files, folders or programs between the two to optimize performance. Transfers take place seamlessly in the background and require no user input.
Previously, the hardware that works in tandem with the Fusion Drive software was only available on the more expensive 2.9GHz 21.5-inch iMac model.