Apple reportedly taking eco-friendly 'campus approach' with upcoming Austin facility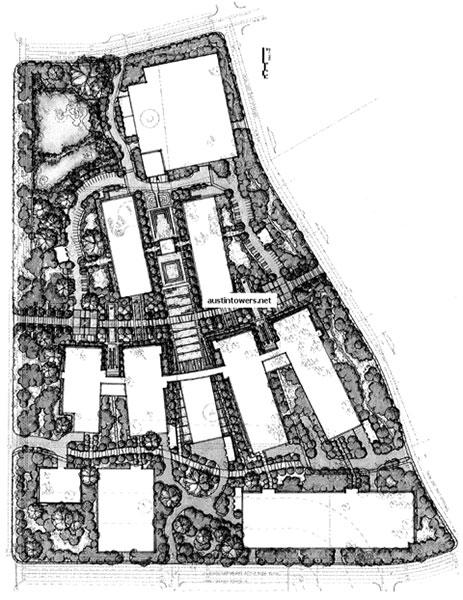 With construction of Apple's $304 million Austin, Tex. complex underway, one website has reportedly come across new build plans for the site, revealing additional details about the campus' layout.
According to a rendering of the campus acquired by local condo website AustinTowers, Apple has made a number of adjustments from the original layout created by the development company in charge designing the Riata Vista Circle property.
As AppleInsider previously reported, two of Apple's seven planned buildings are already under construction as part of the project's first phase, which will cost an estimated $56 million. In addition to the 200,000 square feet covered by the initial buildings, five other structures are said to be in the works, increasing the total area covered to some one million square feet.
Further details include the replacement of surface parking spaces with three garages capable of accommodating hold 5,500 vehicles. The website claims Apple is using a so-called "Fast Track" permit to have at least one of the parking garages completed in time for the first building's opening.
Other enhancements include the replacement of traditional driveways with pedestrian courts and corridors, reducing the amount of concrete and asphalt from 80 percent to 55 percent.
Construction of Apple's Austin campus, which will be home to the company's Americas Operations Center, is scheduled for completion by the end of 2021. The new facility will create an estimated 3,600 jobs, more than doubling Apple's existing workforce in the city.