Apple's margins predicted to change & improve with the seasons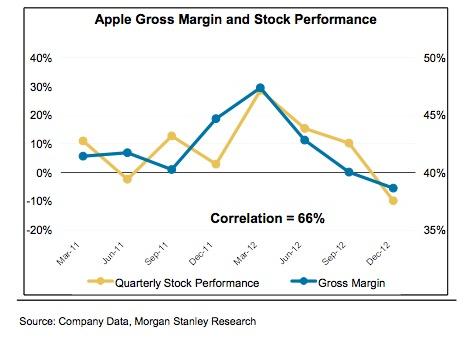 AppleInsider is supported by its audience and may earn commission as an Amazon Associate and affiliate partner on qualifying purchases. These affiliate partnerships do not influence our editorial content.
Apple's lower gross margins — and, subsequently, its lower stock price — could be largely attributable to cyclical drivers such as capital expenditures and component pricing, paving the way for a significant improvement with the launch of a so-called "iPhone 5S," a new analysis argues.
Morgan Stanley's Katy Huberty pointed out on Monday that Apple's quarterly stock performance and gross margin both peaked in March of 2012. Thereafter, capital equipment investments in preparation for the launch of the iPhone 5 and higher NAND flash prices knocked margins down 900 base points.
Huberty expects that Apple will follow its previous patterns and release an "iPhone 5S" that will not likely require much in the way of significant hardware changes. She also expects Apple to grab better deals on NAND components going forward, a trend possibly foreshadowed by the release of a 128-gigabyte iPad.
Huberty's take stands in opposition to some pessimistic investors, who have expressed concern that Apple's volatility in gross margin could be as a result of structural issues with the company. But she believes that lower capital equipment purchases and potentially more favorable NAND flash prices could result in improved margins toward the end of 2013.
As evidence, Huberty pointed to Apple's 10-Q filing, in which the company revealed that its purchase commitments for the current quarter are just $904 million. That compares to $4.5 billion just two quarters ago, when the company invested in new in-cell touch displays for the iPhone 5 launch.
For its part, Apple's own guidance projects that the company's fiscal year 2013 gross margin will fall short of its peak of 43.9 percent in fiscal year 2012. Morgan Stanley's models call for Apple to see gross margins of 38.7 percent in fiscal 2013.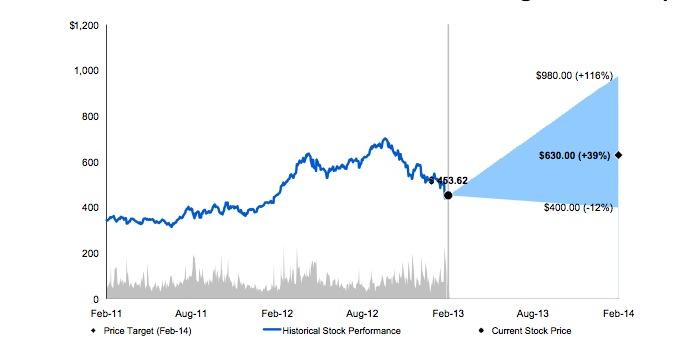 Morgan Stanley lowered its price target for AAPL stock to $630 last month, but has retained its overweight rating for the company. Huberty did caution that she believes near-term catalysts for the company are limited, as Apple faces tougher comparisons in the first quarter of calendar 2013.
The investment firm's price target falls in the middle of a range of possibilities seen: The "bull case" sets a 12-month target of $980, based on the possibility of Apple releasing a new iPad and lower-cost iPhone this summer while reaching an agreement with China Mobile. The bear outlook for the stock targets $400, with Apple losing share to Windows 8 and Samsung in mature markets and lower-priced options in emerging markets.