1 in 4 employees want Apple iPad for work, 1 in 3 want iPhone, study finds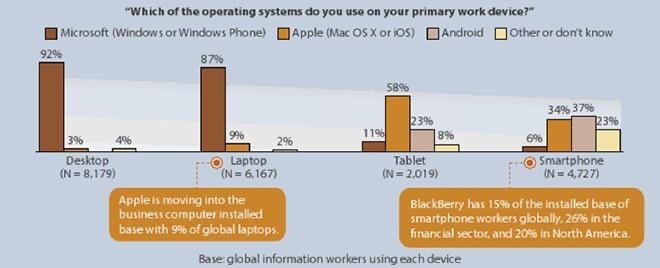 Apple's best-selling iPad and iPhone continue to thrive in the consumer sector, but a new report indicates that iOS is positioned to challenge Microsoft in the enterprise segment as well.
Forrester's 2013 Mobile Workforce Adoption Trends looked at work habits and desired technologies among 9,766 global information workers. Forrester says "anytime, anywhere information workers" that use three or more devices now constitute 29 percent of the global workforce, up from 23 percent in 2011.
Forrester's analysis found that 21 percent of respondents were using a tablet at least weekly for work. Forty-eight percent were using a smartphone at least weekly for work.
Among respondents using tablets for work, 58 percent relied on an iPad, more than twice the number using Android tablets and more than five times the number using Windows tablets. iOS was nearly even with Android among workers counting smartphones among their primary work devices; Android had 37 percent of respondents, while iOS had 34 percent. The BlackBerry platform, once nearly synonymous with mobile productivity, held a 15 percent share among respondents.
Apple's future in the enterprise sector looks brighter when it comes to the devices respondents want for their next work smartphones or tablets. While 16 percent of respondents currently use an iPhone, 33 percent said they wanted an iPhone for their next work smartphone, as big a percentage as Android and Windows Phone combined.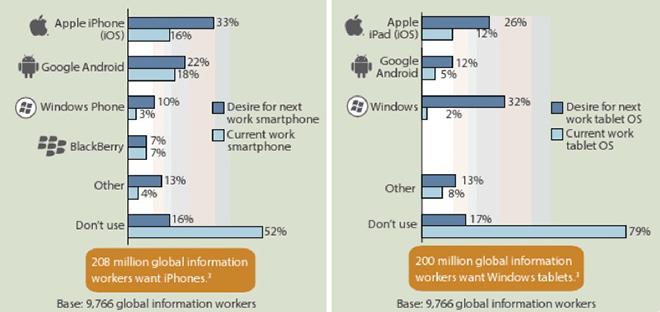 The tablet segment is also promising for Apple. Twenty-six percent of respondents want an iPad for their next work tablet, more than twice the percentage that want an Android-powered device. The enterprise tablet sector, though, also holds promise for Microsoft's Windows platform, as 32 percent of respondents said they would prefer a Windows tablet for their next device.
For the time, desktop and notebook computing solutions remain the most popular platforms for enterprise, with 84 and 63 percent, respectively, of workers using those devices weekly. In those segments, Microsoft's platform remains the overwhelming leader, but Apple is making headway in the notebook sector. Forrester's report sees Apple's MacBook line holding nine percent of the global enterprise install base.
As the global PC market endures a prolonged slump, though, many observers have noted a prime opportunity for Apple's mobile computing platform to disrupt the typically PC-oriented enterprise sector.
The iOS-in-enterprise trend is part of a larger bring-your-own-device trend in enterprise, where workers are purchasing their own mobile computing devices and using them for both work and personal purposes. Apple has tried to accelerate this trend, working with partners to better tailor its devices for businesses and rolling out higher-capacity iPads to specifically target enterprise.