Apple's iWatch and Apple TV initiatives could drive an additional $80 billion in yearly revenue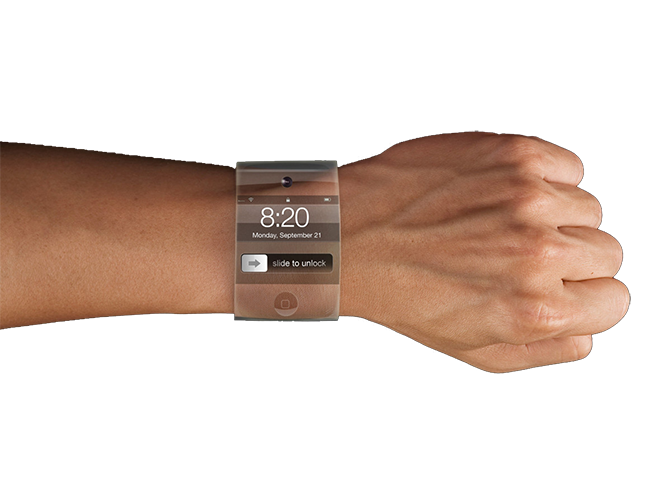 Arguing that the current discount on Apple shares factor in a significant deceleration in revenue and earnings growth that is unjustified in light of medium and long-term growth drivers, Morgan Stanley on Tuesday issued a fairly bullish report estimating that company could generate more than $80 billion in incremental revenue though global penetration of its rumored iWatch and Apple TV initiatives.
Employing her firm's "What's in the Price" analyzer, analyst Katy Huberty advised clients that the market is currently pricing -4% long-term earnings per share (EPS) growth in the stock despite the company achieving 14% revenue growth in the markets it serves.
"In other words, investors expect significant share losses and/or margin contraction," she said. "In addition to iPhone market expansion through new products and carrier partners, Apple's entry into new markets can help shift investor perception of long-term growth."
In particular, Huberty's analysis of the market potential for the recently rumored Apple iWatch product — which she admits no direct knowledge of — found that it could drive an incremental $10 to $15 billion in revenue, or $2.50 to $4.00 in EPS, each year. The estimate assumes a 20% attach rate to the roughly half a billion active iTunes users and sell-through of 50 million units yearly at and an average selling price between $200 and $300.
Those figures would double or triple should Apple see attach rates — the percentage of current iTunes users who would purchase or "attach" an iWatch to their Apple ecosystem — jump to 40% and 60%, respectively. Huberty's estimates also assume an average lifespan or consumer update cycle of 2-years for each iWatch sold.
Meanwhile, it's estimated Apple could tack on another $17 billion in annual revenue, or $4.50 in EPS, from a U.S.-based rollout of a smart TV project. The estimates, based on an average selling price of $1,300 for the TV and 10% penetration of iTunes account holders, swell to $68 billion and $18.00 in EPS for a full-blown global roll-out.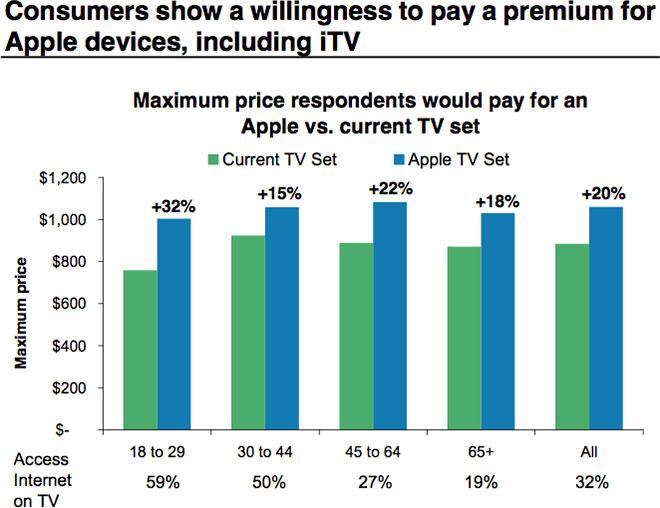 "Importantly, iTV and iWatch present new services opportunities that can differentiate Apple's broader product portfolio, improving investor sentiment around Apple's ability to maintain market share," Huberty said. "Possibilities include, mobile payments service linked to iTunes / iWatch and video search and multi-screen viewing with iTV."
Her base case scenario for Apple shares implies a $630 price target based on 14 times calendar year 2013 EPS of $45 on 13% revenue growth from 152 million iPhone and 95 million iPad shipments as distribution expands in these faster growth markets. It also assumes gross margin will remain flat at 39% and takes into account adjustments for the company's $137 billion cash balance.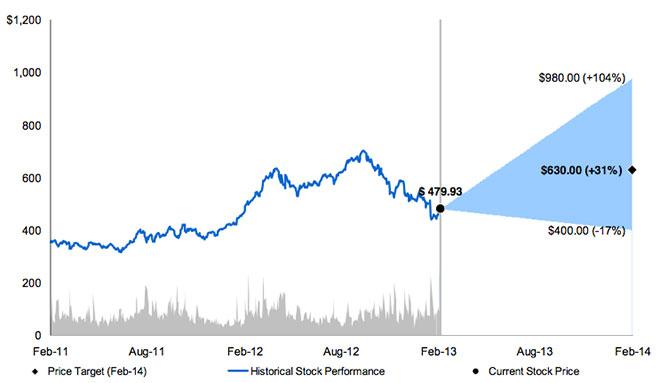 Should Apple see revenue grow by 37% in 2013 and gross margins jump to 44.4% on the back of 210 million iPhone and 120 million iPad shipments with higher selling prices, Huberty's price target would soar to $980 a share. Her bear case scenario of $400 per share would only apply if Apple started bleeding market share to Samsung and Microsoft, while being forced to introduce extremely low-priced devices for emerging markets.
In terms of near-term catalysts, Huberty believes shares will benefit from new iPhone products, including a lower-price model for emerging markets in the summer of 2012, an iPad refresh around the same time, larger dividend payments to investors, and new carrier partnerships with NTT Docomo, T-Mobile, and China Mobile during the second half of the year or early 2014.
The analyst maintained her Overweight rating on shares of the iPhone maker alongside her $630 price target.