Apple's 'microslot antennas' are invisible to the naked eye, could see use in future iPhones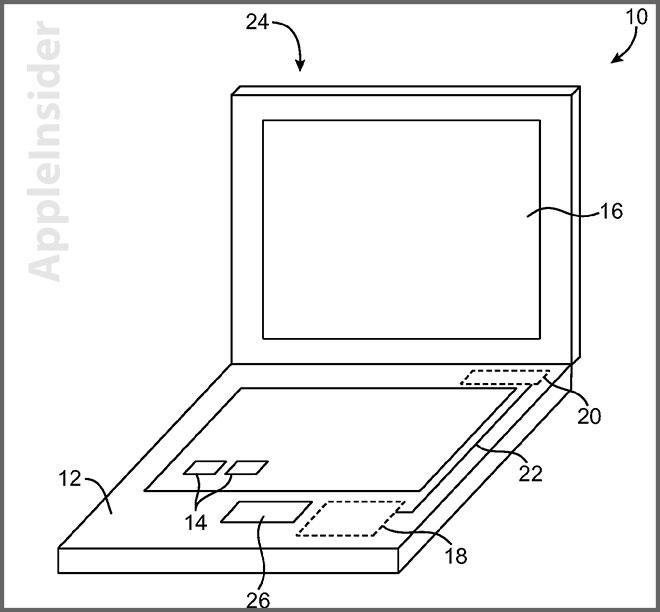 Apple on Tuesday won the patent rights to "microslot antenna" technology that allows micron-wide antenna assets to be integrated into the housing of a portable device, such as an iPhone, making them nearly invisible to the human eye.
As portable electronics become thinner and more compact with each successive generation, internal space is quickly becoming a limiting factor to device designers. Apple's U.S. Patent No. 8,373,610 for "Microslot antennas for electronic devices," granted by the U.S. Patent and Trademark Office on Tuesday, could drastically cut down on the size of at least one component needed to create products like the iPhone.
While the patent refers to implementations in a laptop computer, the antenna tech can be used in other portable electronics like smartphones and tablets.
With Apple's current technology as seen in the iPhone 5, two internal radio antennas dynamically switch between multiple frequency bands, including those carrying fast LTE data. In order to fit the units within the handset's slim body, Apple had to design a window for radio waves, while keeping the unit small enough to leave room for other important structures like the logic board and battery.
Tuesday's patent focuses on so-called "microslot antenna" technology, or "dielectric-filled microslots that are formed in a ground plane element." According to the invention, the ground plane can be a device's housing as long as it is conductive, meaning the slots would be integrated on the outer hull of a product. The system can also support multiple communications bands, meaning functionality would not be compromised for size enhancements.
As for the size of the microslots, the patent language states that the widths of the slots are usually significantly less than their lengths. For example, widths can range from microns to hundreds of microns, while a microslot's length can be on the order of millimeters or centimeters.
Filling the slots is a dielectric such as epoxy, plastic, air or other suitable substance that prevents foreign matter from entering. Antenna feeds can be located at or between the functional microslots, and operate on common communication bands that support Wi-Fi, Bluetooth, GPS and 3G cellular, among others.
The '601 property was first filed for in December 2007, less than six months after the original iPhone debuted, and credits Bing Chiang, Gregory Allen Springer, Douglas B. Kough, Enrique Ayala and Matthew Ian McDonald as its inventors.