Apple adds age rating tags to iOS App Store descriptions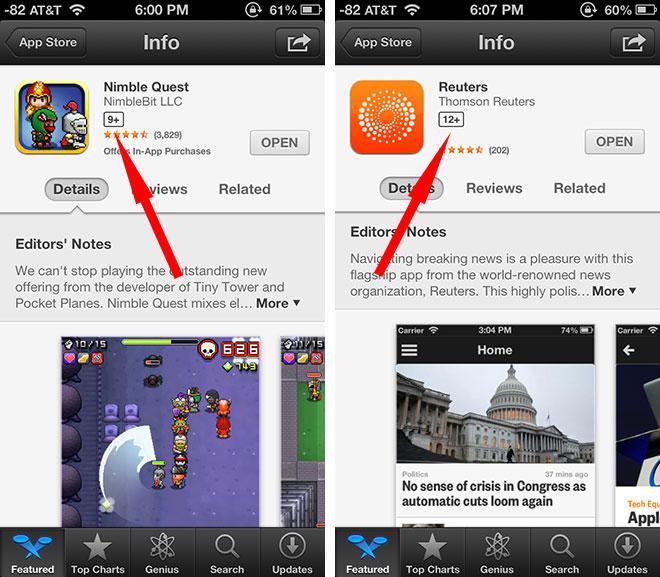 In a slight tweak to the App Store, Apple recently began highlighting apps' recommended age ratings by adding a small informational box located directly below a title's developer credits, possibly in response to growing concern from parents over in-app content.
The change effectively makes the age rating one of the first things users see when downloading or previewing an app, and appears to be part of an overall push by Apple to offer more transparency with its App Store dealings.
A small controversy earlier this year brought Apple's App Store approval process and age rating system into question when then-unrated video sharing app Vine mistakenly featured hardcore pornographic content as an "Editor's Pick." At the time, Apple had been promoting the title as an App Store Editors' Choice, though that honor was quickly stripped after the unsavory content surfaced.
Compounding Apple's problems was a decision to yank popular photo sharing app 500px over nude images just days before the Vine kerfuffle. Both Vine and 500px now come with a 17+ rating for adult content.
In a more recent development, Apple settled a lawsuit leveled by a group of parents who claimed existing App Store purchasing policy was inadequate, as it was too easy for children to spend large amounts of money when unsupervised. Plaintiffs claimed their kids, who don't yet understand the concept of money, were unwittingly spending hundreds of dollars of real-world cash on digital in-game currencies.
The settlement prompted Apple to add a line of text to the download pages of so-called "freemium" apps, informing users that the titles support in-app purchases. The warning is similar to Wednesday's age rating tag, but interestingly has not yet made its way over to the iOS App Store app, as it is only shown on the desktop version of the store.