IHS sees netbooks dead by 2015, blames Apple's iPad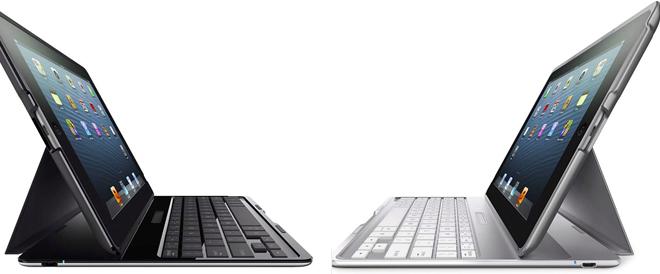 AppleInsider is supported by its audience and may earn commission as an Amazon Associate and affiliate partner on qualifying purchases. These affiliate partnerships do not influence our editorial content.
Even as the wider PC industry declines thanks to the rise of mobile devices, IHS is predicting that one segment in particular will be fully dead within two years, with Apple's iPad as the primary driver in its decline.
Apple's iPad, shown here with a Belkin keyboard dock, performs most of the same duties as a netbook.
Netbooks were supposed to be the bridge between mobile devices like smartphones and the traditional PC form factor. The category peaked in 2010 with 32.14 million units shipped. That's also the same year that Apple's iPad hit the market, and it's been a rapid downhill slide for the netbook category since.
IHS iSuppli has released a new report saying that netbook shipments for 2013 will be only a bit over 10 percent of that 2010 total, according to the LA Times. The 3.97 million unit figure forecast for 2013 is not just a precipitous drop from 2010's figure, though: it's a 72 percent drop from 2012's shipments.
The news doesn't get better for the category. By 2014, IHS predicts, the netbook segment will move just 264,000 units. By 2015, IHS believes the segment will be dead, with no units shipped.
"Netbooks shot to popularity immediately after launch because they were optimized for low cost, delivering what many consumers believed as acceptable computer performance," IHS analyst Craig Stice said in the report. "However, netbooks began their descent into oblivion with the introduction in 2010 of Apple's iPad."
Apple's bestselling tablet has come to the forefront of a struggling PC industry. As consumers increasingly opt for smartphones and tablets over traditional computing form factors, virtually no manufacturer is immune from the resulting PC downturn. The iPad, though, has been — as Apple CEO Tim Cook called it — the poster child of the Post-PC revolution, and now accounts for one in every six shipped computers.
Prior to the iPad's introduction, a number of analysts and industry observers thought it inevitable that Apple would release its own device to compete in the netbook segment. In the netbook's heyday, the cheapest portable MacBook was still twice or more the cost of the cheapest netbooks.
Then-Apple CEO Steve Jobs repeatedly dismissed the netbook category, saying it wasn't an area Apple was interested in.
"We don't know how to make a $500 computer that's not a piece of junk, and our DNA will not let us ship that," Jobs said in 2008 when asked about the possibility of an Apple netbook.
Apple eventually responded to the netbook category, though, releasing the iPad in 2010 and delivering what Jobs deemed a "true third-category device." Touting the iPad, Jobs once again dismissed the netbook segment as incomplete and not really delivering what consumers wanted.
"The problem is: netbooks aren't better at anything," Jobs said. "They're slow, they have low-quality displays, and they run clunky, old PC software. We don't think they're a third-category device."