Apple's iOS beating Google's Android in mobile ads with 75% spend share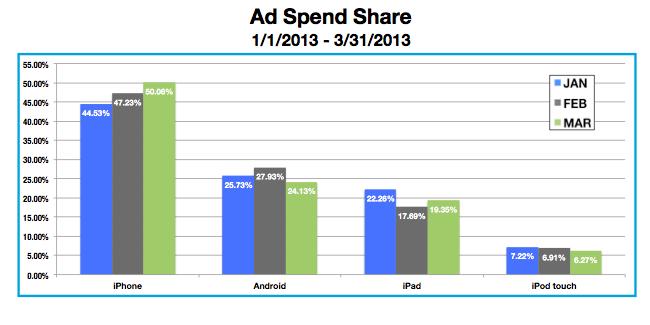 While Android devices continue to sell in large quantities, the advertising dollars that support the platform are increasing going to Apple's iOS, which now claims a 75 percent ad spend share of the leading ad server marketplace.
Mobile advertising in the first quarter outpaced the previous holiday season quarter, but the way advertisers are spending their money is favoring Apple's iOS at the expense of Google's Android, according to a report by MoPub.
Trends in mobile advertising favoring iOS
Among the trends noted by MoPub: monthly ad share grew 12.4 percent for Apple's iPhone in the quarter, and now accounts for more than half of all ad spend in its marketplace. That's more than twice the share claimed by Android smartphones.
Add in iPad and iPod touch, and Apple's iOS platform accounts for "slightly over" 75 percent of ad spend share, despite a quarterly decline among non-iPhone iOS devices.
In contrast, the report notes that "Android tablets have failed to gain traction, accounting for less than 1.0% of ad spend."
Apple also ahead in ad, user value
MoPub identified two broad areas where Apple's platform has been outperforming Android. The first is that millions of Apple's users are connected to an iTunes or App Store account with a credit card.
Android began catching up in this area last fall with the popularity of higher-end Samsung products like the Galaxy S and Note lines, which ad buyers initially associated, MoPub reports, with "high value" users likely of possessing credit cards and "significant disposable income.""Many ad buyers discovered the increase in user value on Android devices was offset by a poor conversion rate of users from of ads."
However, during the first few months of 2013, "many ad buyers discovered the increase in user value on Android devices was offset by a poor conversion rate of users from of ads."
After an initial increase in ad spend share in February, Android has seen a decrease to levels below January. Apple's iPhone keeps edging upward in ad spend share, while the iPad and iPod touch are together larger than all Android spending combined.
Apple also ahead in rich media ads
In addition to serving a higher value audience, Apple's iOS also accounts for most "rich media advertising," which describes engaging ads that do more than just display a banner for users to click on.
Apple focused on improving the mobile ad experience in 2010 with the release of iAd, an effort to develop an engaging ad experience that wasn't annoying to users, and might instead be inviting, useful or even entertaining.
iAd uses HTML5 content that runs in a special security context to constrain malware and prevent the inadvertent opening of unanticipated vulnerabilities that has plagued interactive middleware such as Adobe Flash or Microsoft Silverlight.
While competitors launched a scoffing campaign that ridiculed Apple's iAd program and suggested that each expansion into lower tiers of advertisers with smaller budgets was actually a desperate admission of defeat, Apple has maintained its position as the third largest mobile ad network, despite being exclusive to iOS.
More good news for iAd: MoPub notes that "ad budget overwhelmingly sought out more engaging and effective ad units," with nearly 80 percent of the ad spend going into rich media ads (below).
"Rich media and iPhone were the only ad impression segments that increased ad spend share in February and March," the firm noted before adding, "However, most of the rich media ad spend share are also iPhone impressions. The inability for Android to capitalize on increased value generated by rich media exposes a major issue that will need to be addressed."
Optimizing mobile ads
MoPub's report on its mobile ad market notes that advertisers made "significant improvements to ad spend optimization and to refine opportunistic tactics" in the quarter, resulting in "exponential payoff for this effort."
MoPub represents over 230 "tier 1 brand advertisers," including 58 of the 100 top advertisers in the United States. The firm's real-time market serves smartphone publishers in the US, Europe, Asia and Latin America.
Unlike other mobile ad networks, MoPub doesn't buy ad inventory or sell advertising. Instead, the company reports "market data from real-time bidding auctions for mobile ad impressions."