Apple's Passbook used to drive coupon campaign at UK restaurant chain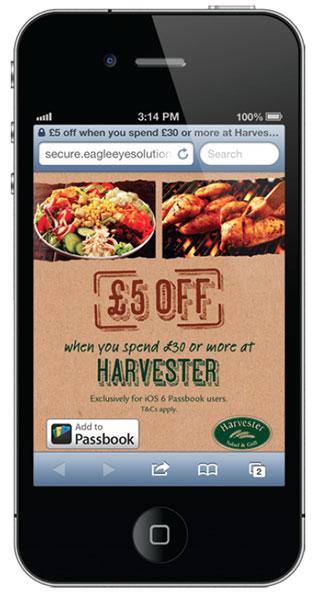 AppleInsider is supported by its audience and may earn commission as an Amazon Associate and affiliate partner on qualifying purchases. These affiliate partnerships do not influence our editorial content.
UK restaurant chain Harvester has taken advantage of the Passbook feature in iOS 6 to drive a wave of customer interest and new sales.
Looking for a way to drive customer traffic and increase buying, Harvester and their technology partner developed a voucher campaign based on Passbook. Harvester created a coupon that could be used at any Harvester restaurant across the United Kingdom, with users able to redeem the coupon directly from their mobile devices.
The campaign allowed customers to get £5 off their bill when spending £30 or more.
Harvester's campaign was the first of its kind in the UK to take advantage of Apple's Passbook app. Within two clicks, users received a unique voucher code on their devices, stored automatically within Passbook. The voucher was redeemed when the customer paid the bill, with restaurant workers able to input the voucher code into their point-of-sale terminals, allowing Harvester to track the efficacy of the campaign.
"The campaign exceeded our expectations," a Harvester representative told Millennial Media.
Harvester issued almost 16,000 vouchers in two weeks of campaign operation. Of those, almost 700 were redeemed during the course of the campaign. Overall, the campaign had a cost per action of £3.41.
"Clearly Apple Passbook users love a great deal as much as they love their technology," said a Harvester rep. "[The] platform gave us real-time data and secure redemption we needed to control the offer with confidence."
Launched with the release of iOS 6, Apple's Passbook allows users to store items like digital tickets, reward cards, and more. The feature has seen some uptake from a number of large service providers and venues. Major League Baseball, for instance, has been steadily integrating Passbook into its ticketing operations at a number of ballparks.
In December, American Airlines and Sephora expressed excitement quicker-than-expected growth of iOS users storing boarding passes and more in Passbook. Credit card company Discover now allows users to store and redeem eCertificates through Apple's Passbook app.