Apple changes plans on VPN On Demand behavior, 'Always' option to stay unchanged for some devices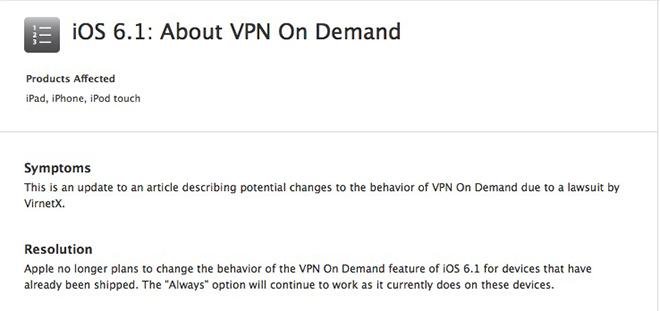 AppleInsider is supported by its audience and may earn commission as an Amazon Associate and affiliate partner on qualifying purchases. These affiliate partnerships do not influence our editorial content.
Apple will not be changing the behavior of its VPN On Demand services for some iOS devices, despite having lost a $368 million judgment to VirnetX.
Earlier this month, Apple published a notice that it would be changing the way VPNs worked in iOS 6.1, but this week the iPhone maker put out a notice (via Mac Rumors) that VPN On Demand behavior would not be changing for devices already in consumer hands.
"Apple no longer plans to change the behavior of the VPN On Demand feature of iOS 6.1 for devices that have already been shipped," the support page reads. "The 'Always' option will continue to work as it currently does on these devices."
Apple's statement leaves open the possibility that future iOS devices will ship with the previously planned VPN On Demand changes having been made.
In October, a Texas jury handed down a $368 million judgment against Apple, finding that the iPhone maker had violated the patents of VirnetX. Specifically, the jury found that Apple had violated U.S. Patent No. 8,05,181, covering a "Method for Establishing Secure Communication Link Between Computers of Virtual Private Network." The offending technology was Apple's FaceTime, featured in millions of iPads, iPhones, and iPods, as well as Mac computers.
Apple appealed the jury's decision, but a U.S. District Court judge upheld the ruling. VirnetX filed another suit shortly thereafter, adding the iPhone 5, fourth-generatino iPad, iPad mini, fifth-generation iPod touch, and "the latest Macintosh computers" to its claim.