Photo retrospective shows off Apple's iPhone camera quality evolution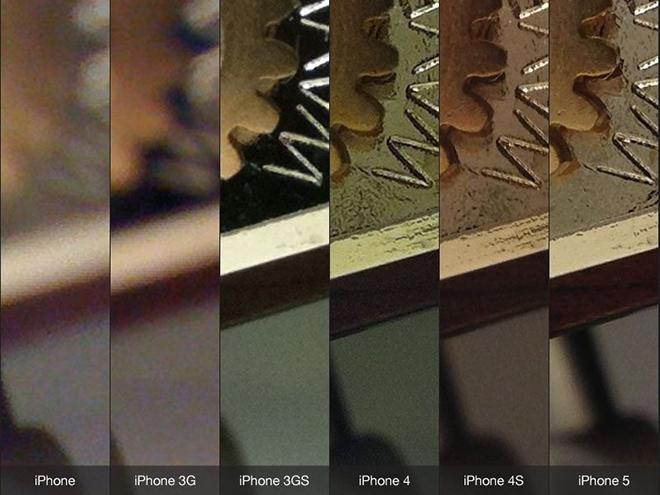 AppleInsider is supported by its audience and may earn commission as an Amazon Associate and affiliate partner on qualifying purchases. These affiliate partnerships do not influence our editorial content.
The team behind a popular iOS camera app has put together a retrospective showing the dramatic improvement in image quality from Apple's first iPhone on through the iPhone 5.
The makers of Camera+ gathered all six versions of the iPhone — from the first-generation model on through the iPhone 5 — and took pictures in similar conditions with each. The resulting photographs (via TUAW) demonstrate the evolution of photo quality in Apple's bestselling handset.
The Camera+ crew shot three pictures with each phone: a well-lit macro, a skyline shot, and a candlelit low-light macro. The progression in image quality is immediately noticeable, with photos from the original iPhone very blurry and ill-defined in comparison to later models.
"It's clear from the detail shots," Lisa Bettany writes in the post, "that the iPhone 5 produces sharper photos with more accurate white balance, contrast, and saturation."
Possibly the biggest jump in quality is from the iPhone 3G to the iPhone 3GS. Despite the inclusion of a camera on the device, photography had to an extent been an afterthought on the iPhone. Apple hadn't seen fit to equip its first two models, the iPhone and iPhone 3G, with a flash, and the ability to send and receive photos as MMS messages was absent until a software update enabled the feature.
Apple has since considerably improved the iPhone's camera with nearly every new hardware iteration, adding features such as panorama mode and giving the lens a sapphire crystal surface. As the camera has improved, Apple has touted it more regularly, and now ads devoted to the camera are part of Apple's latest marketing campaign for the iPhone 5.