Rumor: Apple to feature sapphire crystal touch home button on 'iPhone 5S'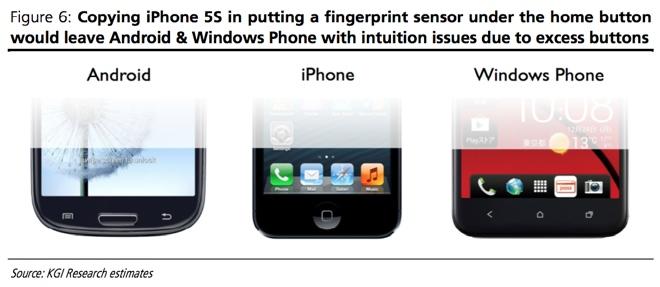 The fingerprint sensing home button rumored to be on Apple's next iPhone will be a capacitive touch-sensitive button covered by scratch-resistant sapphire crystal glass, a new report claims.
The alleged details come from Taiwan's Technews.tw, in a report first highlighted by Cult of Mac on Tuesday. The rumor claims Apple will ditch the physical button found on all previous iPhones, opting instead for a touch-sensitive virtual button.
The unconfirmed report claims that Apple will utilize sapphire crystal glass because of its compatibility with optic sensors. Apple already utilizes a crystal glass cover to enclose the iPhone 5 rear camera.
The report noted that the physical home button on previous iPhone models has been problematic and prone to failure. But rather than ditch the home button entirely, it suggests that Apple will replace it with a touch-sensitive, non-moving part — much like Apple did in replacing the scroll wheel on the original iPod.
The very first iPod made by Apple had a mechanical wheel that would physically spin around to allow a user to scroll. That was quickly replaced with a touch-sensitive wheel with the second-generation model.
By using sapphire crystal glass, Apple allegedly plans to prevent scratches on the surface, which could ruin the fingerprint sensing capabilities expected to be featured in the so-called "iPhone 5S."
Well-connected analyst Ming-Chi Kuo said in January that Apple was planning on including a fingerprint sensor under the home button of the "iPhone 5S." He gave no indication that Apple planned to ditch the physical button that can be pressed, however.