Digital music streaming grows 24% as Apple preps launch of iTunes Radio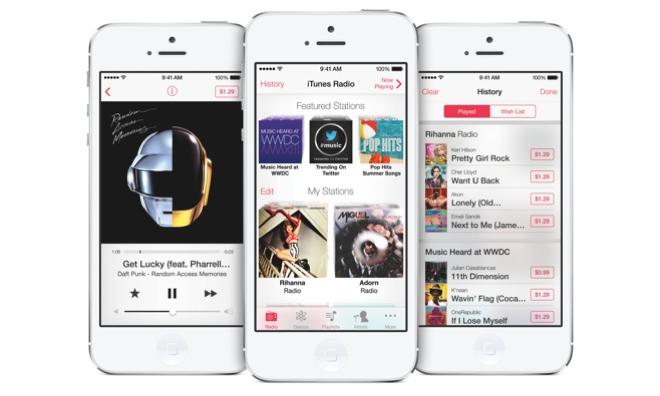 As Apple prepares to launch iTunes Radio alongside iOS 7, new figures from Nielsen indicate that the music streaming industry has taken off, with more than 50 billion songs streamed in the first half of this year.
Friday saw the release of Nielsen SoundScan's newest figures, which show a growing interest among consumers in streaming services like Spotify and Apple's forthcoming iTunes Radio. For the first half of 2013, stream volume was up 24 percent over the same period last year.
"Streaming continues to be a tremendous growth story," said Nielsen's David Bakula. "with over 50 billion audio and video streams in the first six months of 2013."
This considerable growth in streaming service use comes even before Apple has properly stepped into the fray with its recently announced iTunes Radio service. That service — accessible by Mac, PC, Apple TV, and iOS devices — will see Apple offering personalized radio stations built off of users' listening habits. It will come in both ad-supported and ad-free models.
A presence in the growing music streaming industry could give Apple even more sway in the music industry. By some estimates, iTunes accounts for 63 percent of all digital music sales, while other estimates put that figure as high as 75 percent.
iTunes Radio will join a crowded field, though it will have some advantages due to it being preinstalled on every device running iOS 7. Aside from Apple's offering, music consumers can also stream from Pandora, Spotify, another streaming option from Google Music, Microsoft's Xbox Music service, and many other options.
Apple's entry into the Internet radio business was almost held up by resistance from assorted music industry players. Those players — wary of giving Apple more power, and also eying the company's considerable cash holdings — wanted sizable concessions from Apple with regard to licensing fees and royalties on their content. Apple eventually yielded on some issues and closed deals with the major players ahead of the service's announcement at the annual Worldwide Developer Conference.
Beyond the implications for the streaming segment, Nielsen's report showed that music sales were slightly down year-over-year. Overall, album and track equivalent sales were down 4.6 versus the same period in 2012. That was due in part to a continuing decline in the largest physical media segment, the compact disc, which was down 14.2 percent year-over-year.
Digital track sales were down 2.3 percent, but digital album sales were actually up 6.3 percent. Nielsen found that digital albums now make up 43 percent of all album sales, up from 38 percent last year.
Vinyl LP sales were also up considerably over last year, with Nielsen measuring them at 33.5 percent higher than in 2012.