Apple refunds $6,131 iTunes bill for 8-year-old's unauthorized in-app purchases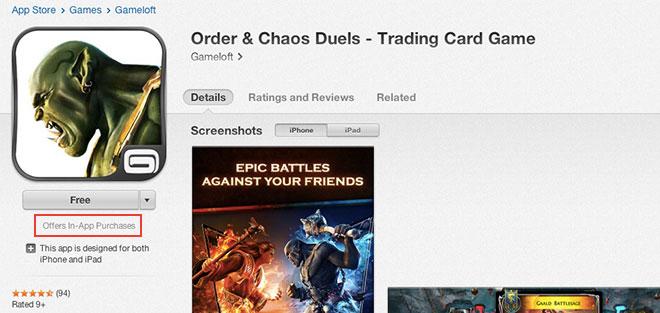 Apple may have made changes to its in-app purchasing protocols to safeguard against unwanted charges by minors, but the Cupertino company still shelled out more than $6,000 in order to cover the unauthorized purchases one British eight-year-old posted to her father's account.
In-app purchases have been an issue since their inception, but the feature is a proven way to monetize so-called "freemium" apps, or to simply add over-the-top profit for developers and Apple. Most recently, a British father told The Sun that Apple had refunded him £4,000 ($6,131) that his daughter charged over the course of four months.
Lee Neale, 43, says that his daughter spent £2,000 in six days on 74 transactions playing Campus Life, My Horse, Hay Day, and Smurfs' Village. Neale claims he only became aware of the expenditures when his bank froze his account.
Neale's daughter knew her father's iTunes password from having seen him enter it when downloading the games for her. He says he didn't notice the purchases at first, claiming that he had been busy at work and missed the emails telling him of the buys.
Initially, Apple refused to reimburse Neale for the in-app buys, saying that "all purchases made on the iTunes Store are final." Over the weekend, though, word emerged that Apple had reversed course in his case.
"Apple called me to say they will be refunding the money I have lost and apologized for closing my case so early," Neal said. "It has really saved my bacon."
Neale's case is just one among many in which minors have racked up sizable bills on their parents' iTunes accounts. In March, another British youth charged £1,000 while playing a popular Simpsons game. Apple also reimbursed that family for the cost of the in-app purchases.
In 2011, a Pennsylvania man filed suit against Apple, claiming that the company's in-app purchasing system made it too easy for minors to make unwanted charges. Apple recently settled the suit, giving claimants a single $5 iTunes Store credit or a credit equal to the total amount of game currency that a minor charged to an account within a single forty-five day period.
Looking to head off future issues, Apple added a warning about in-app purchases to App Store titles that enable such actions. The App Store also now contains an educational section meant to instruct users in the realities of in-app purchases, as well as how to disable them in order to keep children from making unauthorized buys.