Samsung seeks 'Galaxy Gear' smart watch trademark as wearable tech market heats up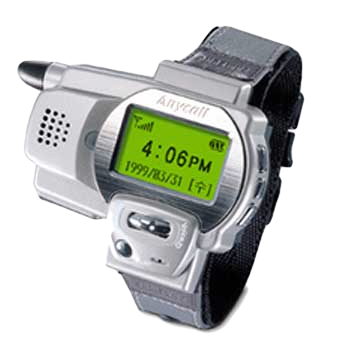 AppleInsider may earn an affiliate commission on purchases made through links on our site.
Samsung's forthcoming smart watch accessory may be dubbed the "Galaxy Gear," based on new trademark filings by the company in its home country of South Korea, as well as in the U.S.
The Samsung SPH-WP10 launched in 1999.
The trademark applications apply to an Internet-connected smart watch, the Associated Press revealed on Wednesday. One application for the "Samsung Galaxy Gear" was made with the U.S. Patent and Trademark Office on July 29, while another was filed a month earlier for the "Samsung Gear" in South Korea.
The design of Samsung's forthcoming product is unknown, but the USPTO application did describe the device as a wristwatch, wrist band, or bangle. It also said the device will be capable of connecting to the Internet, making phone calls, and checking e-mail and text messages.
Samsung's trademark applications come after Apple has already filed for its own "iWatch" trademarks in Japan, Mexico, Taiwan, and elsewhere around the globe. Despite those filings, Apple is not expected to introduce its own smart watch accessory until late 2014, with a focus on biometrics data such as heart rate monitoring.
Samsung already revealed in March that it was readying its own smart watch accessory, though the company failed to reveal details about the device. The new device would actually be Samsung's third stab at creating a wrist-worn device, with two previous devices representing full-fledged phones worn on the wrist. The SPH-WP10 was released in 1999, while the S9110 Watch Phone debuted in 2009.
The name Galaxy suggests Samsung's forthcoming watch will fit in with the company's family of mobile devices that run Google's Android operating system. They include the flagship Galaxy S4 smartphone, Galaxy Tab line of tablets, and a range of other devices.
With Apple rumored to be working on a smart watch and Samsung also planning a future device, a number of other tech companies are also betting on a big future in wearable electronics. Products from Microsoft, Google, Samsung, and LG are said to be in the works, in addition to Sony's recently announced Sony SmartWatch 2, and currently-available options like the Pebble, MetaWatch, and I'm Watch.