Apple's rumored 'iPhone 5C' Quick Start guide, retail packaging reportedly photographed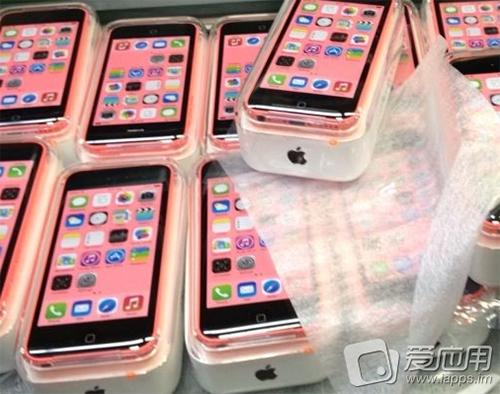 Two sets of images out of the Far East purportedly show a Quick Start guide with attached SIM card eject tool and packaging for Apple's widely rumored "iPhone 5C," a more affordable plastic handset said to be making its debut in the coming weeks.
In all, three photos hit the Web this weekend, one claiming to reveal a batch of pink iPhone 5C units in what appears to be retail packaging, while the other two reportedly show an instruction card and accompanying SIM card tray eject tool.
The first image, posted to Chinese website iapps.im (via nowhereelse.fr) on Friday, claims to picture a number of pink iPhone 5C handsets in their plastic retail casings.
If legitimate, the photo reveals Apple is planning to display the 5C in its Apple Stores as it does the iPod range of products. Currently, iPods are placed under a clear plastic cover with a sticker over their screens depicting what the unit would look like if turned on. The purportedly leaked image of the iPhone 5C packaging is much the same, except the stickers show iOS 7 icons on a pink background assumedly to match the handset's shell color.
The supposed retail case images seem to match up with photos from late July that revealed the white bottom portion of the package, which will likely house earphones, charger, Lightning cable and documentation.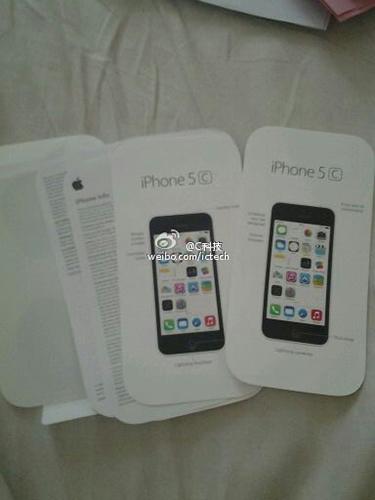 On Sunday, a pair of blurry snapshots were uploaded to Chinese microblogging site Sina Weibo showed what looks to be a Quick Start guide printed on a piece of cardboard cut to fit the above mentioned iPhone 5C packages. While not much information can be gleaned from the cards, they do show the same iOS 7 icons placed arranged in an identical array as those seen on the stickers with pink backgrounds.
In addition, a SIM card tray eject tool identical to those Apple supplies with current iPhones in some countries is shown attached to the back of one card. A diagram illustrates how to use the tool, but the corresponding text is illegible due to the image's low quality.
Beyond the iPhone 5C name, the device as shown sports a black faceplate, as was the case in a prior leak that showed a number of iPhones apparently in the midst of quality assurance testing. Previous renders of the device — which will likely come in an array of colors — showed it with a white front.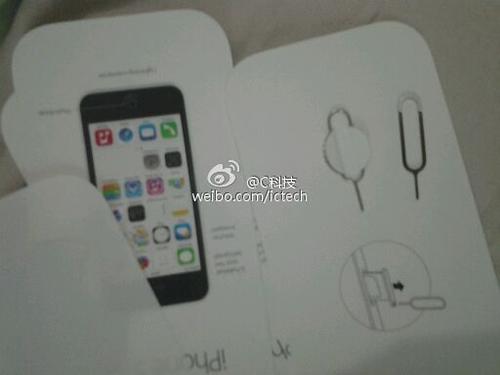 Apple is widely expected to launch the lower cost iPhone 5C alongside a next-generation "iPhone 5S" at a special event on Sept. 10, with a majority of rumors pointing to a Sept. 20 release. Most recently, AppleInsider reported that AppleCare employees have been restricted from taking vacations between Sept. 15 through 28, suggesting a launch during that period.