Supposed 'iPad 5' casing and digitizer compared with 4th-gen model in video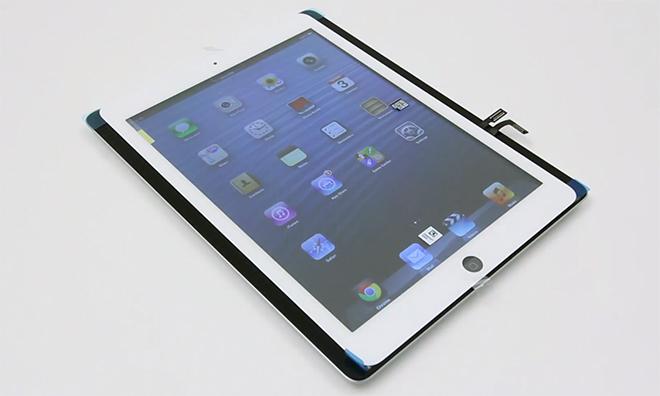 A new video uploaded to YouTube on Tuesday combines two parts purportedly bound for Apple's next-generation iPad, the front digitizer and rear casing, and compares the dummy model with the current version of the tablet.
While the supposed "iPad 5" parts appear to be identical to those already been seen in multiple "leaks," Tuesday's video offers a better look at how the rumored device's iPad mini-like design stacks up against the fourth-generation iPad.
As seen previously, one of the most significant changes are the side bezels, which are substantially thinner than the current full-size iPad. In the clip, Lewis Hilsenteger of YouTube channel Unbox Therapy lays a white version of the purported iPad 5 digitizer on top of a current iPad, illustrating the greatly reduced bezel size.
With the current iPad, the bezel width is nearly uniform on all four sides, but Apple's latest tablet, the iPad mini, sports a sleeker profile that cuts down on these "handles." The result makes the full size iPad seem taller when used in the portrait orientation.
The purported rear aluminum shell is also redesigned and cuts down on width by about 1.5 centimeters, while depth is nearly the same. Rounded edges terminating in a sharp chamfered screen surround replace the tapered design of the fourth-gen iPad.
Not much can be gleaned from the video concerning internals, as there are none to speak of, though the shell does have dual loudspeaker ports, suggesting the next-gen unit will adopt the iPad mini's stereo design.
Apple is not expected to announce a new iPad or iPad mini at its upcoming special event on Sept. 10, at which a next-gen iPhone, possbile low-cost handset, and iOS 7 are thought to be unveiled.