Vodafone Germany to reportedly stop 32GB and 64GB iPhone 5 sales, 16GB model to live on

AppleInsider is supported by its audience and may earn commission as an Amazon Associate and affiliate partner on qualifying purchases. These affiliate partnerships do not influence our editorial content.
Purportedly leaked photos of Vodafone Germany's ERP system reveals the telecom will discontinue sales of 32GB and 64GB iPhone 5 models, but will carry over the 16GB version as a possible intermediate device positioned between the rumored iPhone 5C and iPhone 5S.
The images, first posted to the Web by German site Flo's Weblog (via MacRumors), appear to be two snapshots of Vodafone's enterprise resource planning (ERP) system, the first showing iPhone stock status and a second explaining the discontinuation of certain models.
In the image above, all current models of Apple's iPhone 5, as well as the legacy 3GS, are listed next to their respective availability. While both the black and white versions of Apple's 16GB iPhone 5 remain "available for shipping," the 32GB and 64GB models are shown as "not available." The white 32GB iPhone 5 is "available," though the status is thought to reflect units on hand.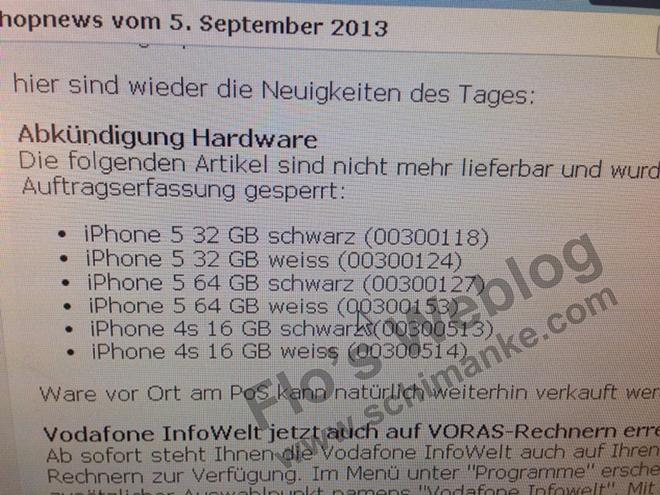 The second image, seen above, is a shot of an email that reportedly went out to Vodafone shops in Germany on Thursday. The message reads, in part:
Here again the news of the day:
The following items are no longer available and [unreadable…] contract acquisition disabled:
iPhone 5 32GB Black
iPhone 5 32GB White
iPhone 5 64GB Black
iPhone 5 64GB White
iPhone 4S 16GB Black
iPhone 4S 16GB White
Wares on site at the point-of-sale can of course continue to be sold.
It is not clear whether Apple itself is discontinuing the models, or if Vodafone has simply decided not to carry them. If Apple were to discontinue the iPhone 5 and 4S models, it would be left with a rumored lower-cost handset in the iPhone 5C, a 16GB iPhone 5, and the expected flagship iPhone 5S.
Analysts are split on what Apple plans to do with its legacy iPhone lineup. In August, KGI's Ming-Chi Kuo predicted Apple would position the iPhone 5C as a mid-tier model, replacing the entire iPhone 5 line and making the iPhone 4S the entry level offering. Piper Jaffray analyst Gene Munster, however, believes the 5C will take over for the 4S at the bottom, leaving the current iPhone 5 as an intermediate model.
Apple's 2013 handset lineup should soon be revealed, as the company this week announced a Sept. 10 media event that is widely expected to focus on the iPhone.