Photo of alleged 'iPhone 5S' user guide reveals 'Touch ID sensor' home button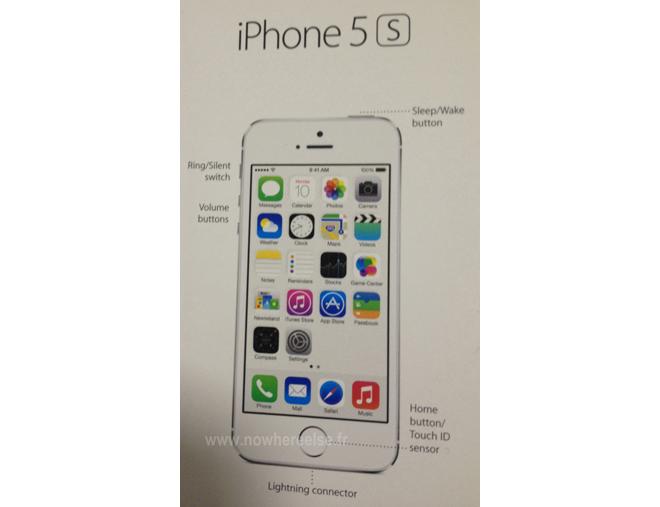 AppleInsider may earn an affiliate commission on purchases made through links on our site.
Just hours before Apple is expected to unveil a next-generation iPhone at a special media event in California, an image has surfaced claiming to show an "iPhone 5S" quick start guide that makes refers to the handset's "Home Button/Touch ID sensor" button.
The photo, posted by Nowhereelse.fr, shows what appears to be a user's guide or quick start card for an "iPhone 5S," with text pointing out important features including a "Home Button/Touch ID sensor" button.
As AppleInsider cannot confirm the veracity of the photo's contents, the following for purposes of discussion only.
It is unclear if the purported image shows a quick start card, as seen in a previous iPhone 5C "leak," or a page from a full-color pamphlet. What is clear, however, is text describing a "Touch ID sensor," which presumably refers to a fingerprint sensor many believe will be built into the handset's home button.
It should be noted that the parts references are somewhat of a departure from Apple's usual "Volume Up/Down" and "Ring/Silent" naming conventions seen on the latest iPhone Quick Start Guide, though some of the terminology appears in current iPod and iPad manuals.
On Monday, a Wall Street Journal report seemingly confirmed Apple's foray into biometric security, noting that the high-end iPhone 5S would be the first to sport the feature.
Rumors regarding an iPhone with fingerprint authentication capabilities have intensified in the past week, including recent rumblings of a "silver ring" that encircles the home button. Guesses as to the purported ring's function have ranged from mere aesthetics to a functional piece of Apple's fingerprint sensing solution.
While embedded fingerprint sensors are not new to the portable electronics industry, major tech companies have yet to find a way to make the system appealing to consumers. Early attempts were cumbersome and inaccurate, sometimes requiring multiple swipes to achieve a suitable reading.
The technology Apple is thought to be using is more mature than conventional methods and comes from its 2012 acquisition of biometric security firm AuthenTec. Unlike older swipe-to-scan systems, Apple's version is likely static, meaning a user would merely place their finger on the sensor/home button as they would when waking the phone from sleep.
Apple invited media outlets to a special event scheduled to take place at the company's Cupertino headquarters on Tuesday, at which many expect a next-generation iPhone 5S and lower cost iPhone 5C to be unveiled. Also anticipated is an official release date for the next-generation iOS 7 mobile operating system. AppleInsider will covering the proceedings live starting at 10 a.m. Pacific, 1 p.m. Eastern.