Inside Apple's iPhone 5s: 's' is for 'style'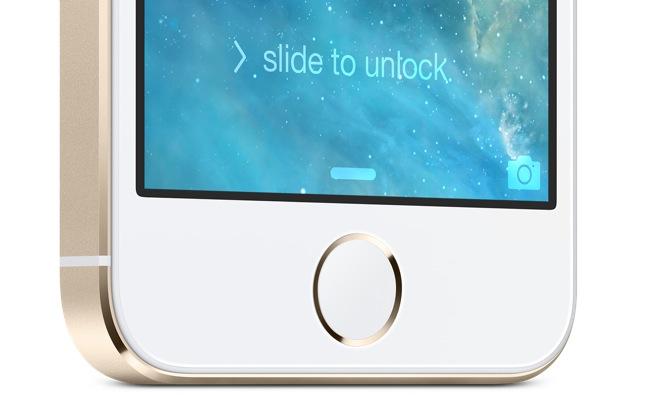 AppleInsider is supported by its audience and may earn commission as an Amazon Associate and affiliate partner on qualifying purchases. These affiliate partnerships do not influence our editorial content.
Arriving in new color options of gold and "space gray," featuring premium leather cases manufactured by Apple, and including the redesigned iOS 7 platform, the new flagship iPhone 5s represents the most stylish and refined iPhone yet.
Standing alone
By discontinuing last year's iPhone 5 and replacing it with the plastic backed iPhone 5c, the new iPhone 5s is the only handset in Apple's lineup with its anodized aluminum back and chamfered edges. The style that debuted last year has been refined, with new colors in "space gray" and gold now joining the white and silver option.
Those looking for the ultra-premium feel offered by the iPhone 5s still only have one choice of handset model from Apple's current lineup. That's a shift from years past, when Apple continued to offer the iPhone 4S and iPhone 4 in its lineup side by side, even though both devices looked nearly identical.
Some have speculated that Apple's mid-level plastic iPhone 5c may serve to up-sell customers to the company's more premium iPhone 5s. Regardless of whether that's Apple's intent, it's likely that the iPhone 5c and iPhone 5s will appeal to very different audiences: The iPhone 5c is for those who like color and choice, and a slightly lower price, while the iPhone 5s is meant for tech enthusiasts who want the latest technology, such as the new Touch ID secure fingerprint scanner.
The gold standard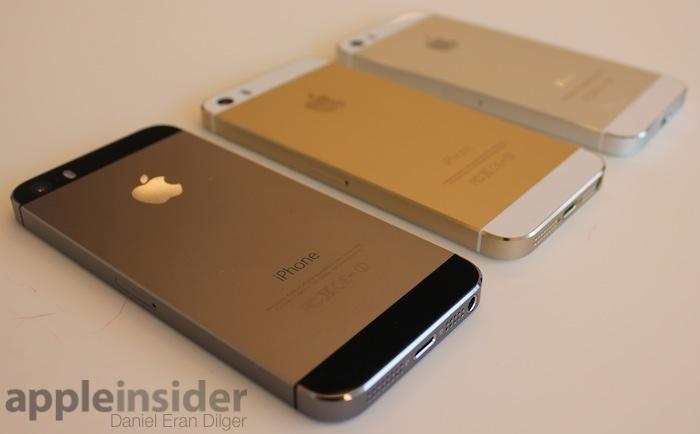 When word of a new gold iPhone first leaked ahead of Apple's official iPhone 5s announcement, some derided the shade as potentially gaudy or ugly. But insiders familiar with the new shade came to its defense, describing it as an "elegant" shade of champagne.
When the gold iPhone 5s was eventually announced by Apple, those reports proved accurate, with the new gold option reflecting a softer shade rather than a bright yellow.Apple's new gold option for the iPhone 5s is expected to be particularly popular in China.
Apple has embraced the new gold color for the iPhone 5s, making it the default color the company has shown to display in promotional materials on its website. Pitched as a "forward thinking" smartphone, the iPhone 5s features a section on Apple's website that even defaults to a gold background in showcasing the new handset.
When he took the stage to unveil the iPhone 5s, Apple marketing chief Phil Schiller also went on to describe the device as the new "gold standard" in smartphones. It's clear that Apple has no intention of shying away from its third color option for the iPhone 5s.
The company has good reason to emphasize the color: There's evidence that consumer preferences in colors have been shifting in major markets like China, with a new interest in natural colors like gold. Apple Chief Executive Tim Cook has repeatedly identified China as a particularly important market for his company to continue its growth.
Unsurprisingly, reservations for the new gold iPhone 5s were quickly depleted this week in China, suggesting that the new color could prove to be the most popular in the world's most populous nation. Inventory ran out within two hours of reservations at two of the company's China stores, while other colors remained available.

But gold isn't the only new color option for the iPhone 5s, as Apple's flagship handset is also available this year in "space gray." That option replaces last year's black and slate shade.
Observers have speculated that Apple opted to ditch the black and slate shade, as it was prone to quickly gather nicks and scuffs around its chamfered edges. Such signs of wear and tear may be less visible on a lighter shade of anodized aluminum, giving the iPhone 5s the ability to retain its sense of style for a bit longer than its predecessor.
And the iPhone 5s also ships with Apple's colorful new iOS 7, a complete redesign of Apple's mobile computing platform. While not exclusive to the iPhone 5s, iOS 7 represents a new sense of style for Apple's software, embracing a "flatter," cleaner look than previous versions of iOS.
New 'luxurious' leather cases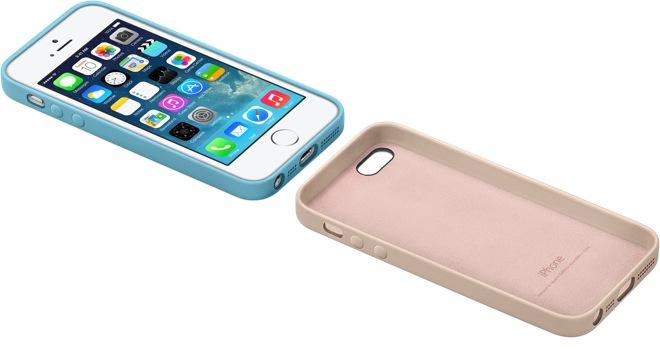 With its 2013 iPhone lineup, Apple has returned in full force to the handset accessory market, opting to release new docks and cases for its latest handsets. While the iPhone 5c has received a set of colorful and playful protective cases to match its marketing approach, the iPhone 5s has instead come with more classic premium leather cases that suit the refined nature of the stylish handset.
Apple has boasted that its new leather iPhone 5s cases are "precision engineered" to fit the company's latest flagship handset, ensuring that the device remains "slim and elegant in your hand." They come in a total of six colors: brown, beige, black, yellow, blue, and (PRODUCT) RED.
"iPhone 5s has a stunning exterior. So any case that dares to conceal it should be equally appealing," Apple's description reads. "The Apple-designed leather cases more than meet the requirement. Made from premium leather, they look and feel luxurious."
The leather iPhone 5s cases are shaped to cover the handset's volume buttons, on/off switch, and chamfered edges. Inside, the cases feature a microfiber lining that helps the iPhone 5s.
The premium leather used in the new cases is infused with dye, ensuring the six colors are more than skin deep. And because the iPhone 5s sports the same exterior design as last year's iPhone 5, the new cases will also fit last year's handset, for those looking to protect their investment.
Note: This is the fifth in a six-part AppleInsider series detailing features of Apple's new iPhone 5s and iPhone 5c. Previous installments are included below: