Schools report Apple's iOS 7 breaks iPad supervision profiles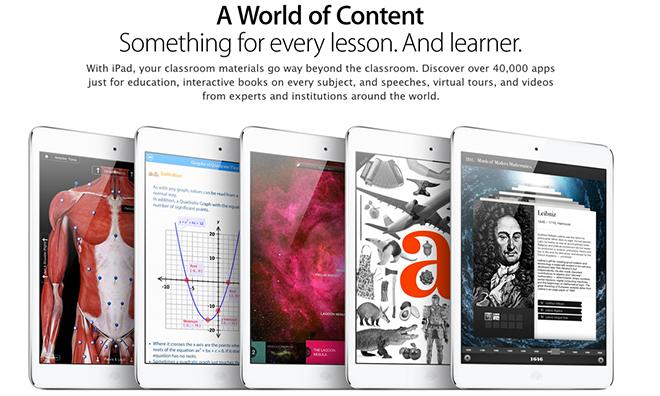 AppleInsider is supported by its audience and may earn commission as an Amazon Associate and affiliate partner on qualifying purchases. These affiliate partnerships do not influence our editorial content.
It was reported on Thursday that schools around the U.S. are finding the supervision profiles installed on deployed iPads wiped clean after upgrading to iOS 7, leaving students unsupervised and unprotected from unsavory Web content.
As reported by AllThingsD, a number of schools that have incorporated Apple's iPad into their curriculum are reporting the latest iOS 7 upgrade strips the tablets of installed supervision profiles and filters, which are in place to monitor and protect students who use the device while off campus.
The publication cites a memo sent to parents in the Manitou Springs School District 14 in Colorado:
Apple did not realize that installing iOS 7 would remove our (and thousands of organizations across the country) safety protection measure, which now makes the iPad devices unfiltered when accessing the Internet away from school. In the short term, the district will be collecting iPad devices at the end of each day until the safety protection measure is reinstalled.
All told, Manitou's District 14 had to collect "hundreds" of iPads, wipe and restore them, and reinstall a fresh version of iOS 7 along with any apps and content saved by the student. To avoid the hassle, other schools have resorted to blocking over-the-air iOS 7 downloads altogether by adjusting campus Wi-Fi settings.
One of the issues appears to lie with Apple's Configurator tool, which was updated to version 1.4 alongside the launch of iOS 7 in September. Threads on Apple's Support Communities webpage point to multiple failures and bugs like the disappearance of volume app codes when the tool is used with iPads running iOS 7.
"IT staff can't lockout iOS updates, but can lockout App updates," writes forum member schoolofluck. "This renders Configurator 1.3 and 1.21 dead. Configurator v1.21 and 1.3 do not support iOS7, and most schools have had iOS7 installed because it arrives at the whim of any one student or ipad [sic] user."
Apple is aware of the issue and is working to remedy the situation, though it is unclear exactly how long that will take.
"Some business and education users have reported that their supervised devices have reverted to un-supervised when they upgrade to iOS 7," Apple spokesperson Trudy Muller told AllThingsD. "We are aware of this issue and will have a fix this month."
Thursday's news comes on the heels of a separate issue reported by the Los Angeles Unified School District, which began deploying iPads this fall after signing a $30 million contract to purchase the devices from Apple. Last week, students discovered a workaround to school-imposed security restrictions, allowing them to browse restricted websites like Facebook and YouTube. The "hack" prompted LAUSD officials to repossess iPads from students in at least two schools.
The trouble with iOS 7 comes at a bad time for Apple, which is pushing hard for schools to get behind its iPad in Education initiative. Earlier this year, for example, the company revised its iTunes Store terms and conditions to allow children under the age of 13 to manage their own accounts as long as the Apple ID was requested by an "approved educational institution."