Apple to report fourth quarter earnings on October 28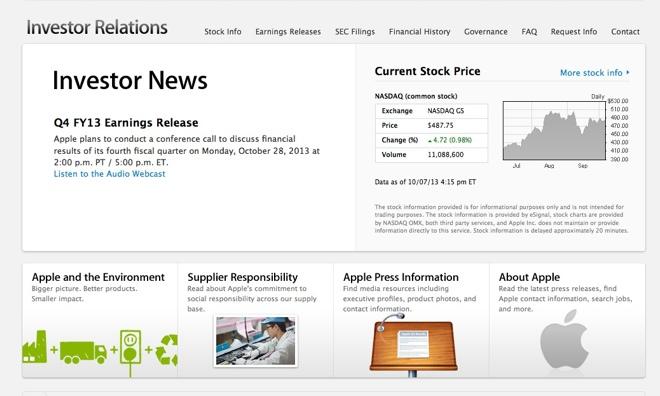 AppleInsider may earn an affiliate commission on purchases made through links on our site.
Apple said Monday it plans to announce its fourth fiscal quarter results immediately following the close of the stock market on October 28.
The results, which cover the company's operations from July through September, will include the first full week of sales for the company's sales record-breaking iPhone 5s and iPhone 5c.
As usual, Apple will conduct a conference call to discuss the financial results on Monday, October 28, 2013 at 2:00 p.m. PT / 5:00 p.m. ET. In the last quarterly call, Apple reported earnings of $6.9 billion on sales of 31.2 million iPhones, 14.6 million iPads, and 3.8 million Macs. That quarter saw Apple doing $35.4 billion in total revenue.
The forthcoming call will likely give investors and tech industry observers some notion of just how well Apple's newest iPhones are doing. The devices sold nine million units in just their first three days of availability, and investors will be eager to see how that may impact Apple's bottom line. The new iPhones, though, were only on sale for the last ten days of the quarter, and their true impact may not be fully felt until Apple's Q1 FY14 reporting.
Apple, though, did appear encouraged by the performance of its newest handsets. Following the launch weekend for the iPhone 5s and 5c, Apple revised its earnings guidance upward. The company expects its earnings to be near the high end of its previously provided range of $34 to $37 billion. It also believes its gross margin will fall at the higher end of its previous range of between 36 and 37 percent.
Wall Street analysts have been mixed on Apple's prospects for the just-ended quarter, with some pointing to apparent saturation of the high-end smartphone market and bemoaning Apple's price point for the iPhone 5c. The day after Apple's "lower-cost" iPhone was revealed, Credit Suisse, Bank of America Merrill Lynch, and UBS all cut their ratings on AAPL stock from "buy" to "neutral."
British financial services firm Barclays, for one, was down on Apple's prospects of late, saying that the Cupertino company needed a "Siri-like moment" to differentiate the iPhone 5s and 5c. Prior to the launch of the new handsets, Barclays forecast a Q413 earnings per share of $7.50, as well as a two percent year-over-year revenue decline to $35.4 billion. After Apple announced strong first weekend sales, though, Barclays raised its price target for AAPL from $525 to $540.
Others were less impressed. UBS' Steven Milunovich noted that demand for Apple's devices appeared weaker than expected in key areas like China, the largest market in the world for mobile devices. The 5c was meant to boost Apple's fortunes in emerging markets like China, and Milunovich believes that the Chinese consumer's response has been "muted." The UBS analyst did not predict any specific sales figures for the quarter past, but he did maintain a "Neutral" rating, as well as his firm's $520 price target.