Apple 'thrilled' to have Campus 2 in Cupertino, says CFO Peter Oppenheimer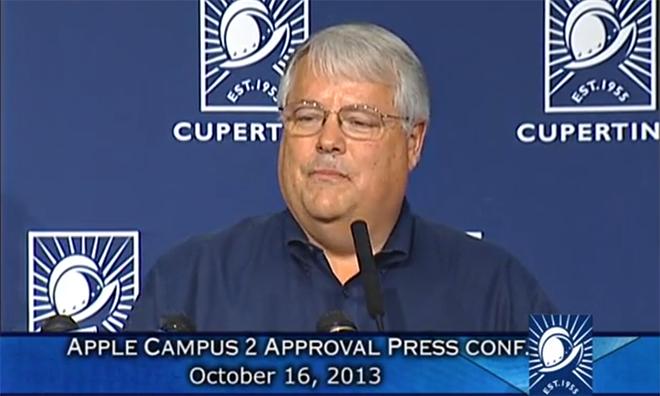 AppleInsider may earn an affiliate commission on purchases made through links on our site.
Speaking at a press conference on Wednesday, Apple's chief financial officer Peter Oppenheimer said his company "can't wait" to get started on the massive Campus 2 undertaking, which was granted final approval by the Cupertino City Council earlier this week.
As previously reported, the scheduled press conference announced the city council's decision to give Apple the go-ahead to start construction of its so-called "spaceship campus." A video of the proceedings was posted to the city's webpage on Thursday.
"This is a very special moment for us at Apple," Oppenheimer told the small gathering at Cupertino's Community Hall. "We have put a tremendous amount of love and energy into this campus, and we can't wait to get started building it."
The executive also noted that Apple would be maintaining residence at its current campus located a few miles away.
Echoing a sentiment made by late Apple cofounder Steve Jobs when he first revealed the project in 2011, Oppenheimer said the huge circular main building will be the "best office building ever built in the world." Covering 2.8 million square feet, the central structure will reach four stories high, feature an interior made exclusively from the "heartwood" of a specific species of maple tree and be wrapped by gigantic curved glass window panes.
Due to the intricate design and construction, Apple's plan was said to be $2 billion over the original $3 billion budget, according to an April report. The ballooning costs caused a delay as architects looked for a way to trim $1 billion from the build.
When asked about the budget on Wednesday, Oppenheimer said, "We're going to spend the right amount of money on this." He explained that a balance would be struck between being responsible spenders to Apple shareholders and building a campus that will facilitate collaboration.
Alongside the "spaceship" will be ancillary office buildings, while revised plans from April noted a 120,000-square-foot underground auditorium, above and below ground parking, bike paths, reconfigured public streets and pedestrian walkways, among other enhancements.
Also of note is the environmental friendliness of the campus, which will generate 70 percent of its own energy from solar and fuel cell installments, while the rest is planned to be purchased from plants specializing in renewable resources.
While a concrete finish-by date has yet to be set, Apple CEO Tim Cook said in February that Apple plans to complete construction and move in by 2016.
"Cupertino is Apple's home, we love Cupertino, we're very proud to be here and we're thrilled that Apple Campus 2 will be part of Cupertino," he said.