Apple's iOS 7 sounds crafted by Owl City creator Adam Young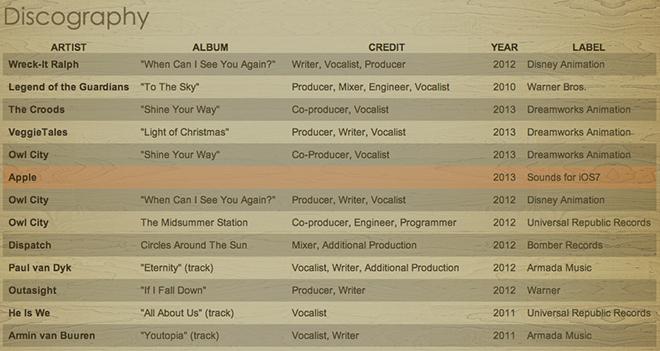 An update to his webpage, founder of electronic music project Owl City, Adam Young, reveals he created sounds for Apple's latest iOS 7, which debuted with a host of new tones.
According to Young's discography, the artist credits himself as working with Apple in an unspecified role on "Sounds for iOS 7."
The exact iOS 7 sounds Young is responsible for is unknown at this point, though it can be assumed the artist developed the new ring and notification tones as they are clearly crafted from electronic instruments. Many of the iOS tones created prior to iOS 7, still available in a Settings subcategory dubbed "Classic," attempted to reproduce the sound of real-world instruments.
Another possibility could be that Young reworked the older tones, which were remastered for iOS 7.
Preforming as Owl City, Young saw success with the track "Fireflies" and has worked on numerous high profile projects since, including collaborations with Paul van Dyk and Armin van Buuren. Recently, Young has expanded his repertoire by producing, mixing and adding vocals to music for animated movies like "The Croods," "Wreck-It Ralph," and "Legend of the Guardians."
Monday's news comes after voice actor Susan Bennett came forward in early October, revealing she leant her voice to the American female version of Apple's Siri virtual assistant.