iPhone 5s represents 3.8% of all iPhones in use, US has highest 5c adoption rate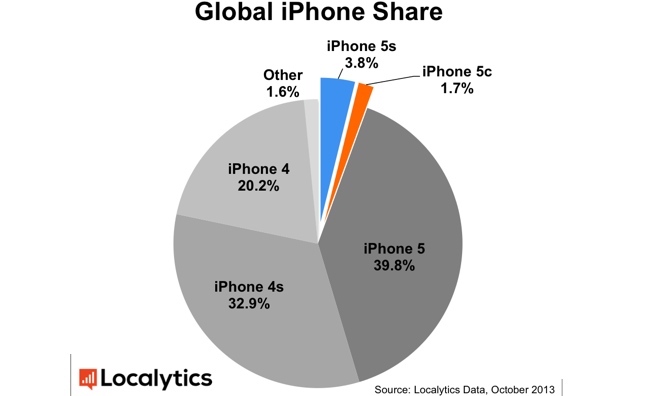 AppleInsider is supported by its audience and may earn commission as an Amazon Associate and affiliate partner on qualifying purchases. These affiliate partnerships do not influence our editorial content.
Newly released data shows that the iPhone 5s and iPhone 5c already account for more than 5 percent of all iPhones in use, while the mid-range 5c has seen the highest share of adoption thus far in the U.S.
The figures were published on Monday by Localytics, which examined more than 40 million unique iPhone devices through its analytics software utilized by developers. The survey found that 3.8 percent of all iPhones worldwide are now the iPhone 5s, while the iPhone 5c accounts for 1.7 percent of all active iPhones.
Apple's iPhone 5, released in 2012, remains the most popular handset from the company, accounting for nearly 40 percent of all iPhones active today. Coming in second is the iPhone 4s, with a 32.9 percent share, followed by the iPhone 4 at 20.2 percent.
Breaking down Apple's latest iPhone models, the survey found that the U.S. is currently the most "5c-friendly" country in the world, with the mid-range model seeing a higher ratio share than other countries surveyed. To date, the iPhone 5c has the lowest share of the two new models in Germany.
iPhone 5s penetration is the highest in Japan, where nearly 8 percent of iPhones in use are Apple's latest flagship model. Combined with the iPhone 5c, the two new handsets are almost 10 percent of all iPhones in use in Japan.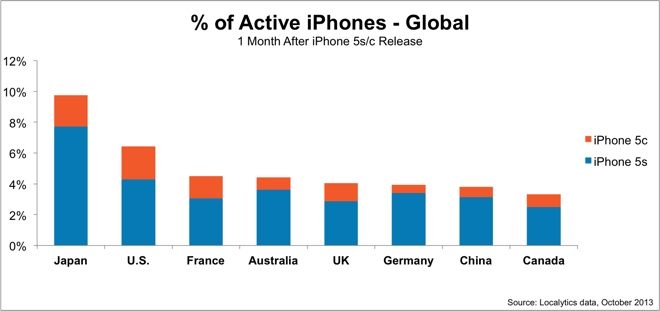 In the U.S. alone, the iPhone 5s and iPhone 5c account for 6.4 percent of all active iPhones, according to Localytics. That's above the global average of 5.5 percent, with both handsets having been on the market for just over a month.
Apple has been steadily launching the iPhone 5s and iPhone 5c in additional countries around the world since the handsets became available in select markets in late September. Last Friday alone, Apple debuted its latest smartphones in 35 additional countries.
It's rumored that the iPhone will land on the world's largest carrier, China Mobile, in the coming weeks. China Mobile, which has 740 million subscribers, is set to launch its TD-LTE high-speed data network between Nov. 9 and 11.