Amazon's Kindle Fire HDX bests iPad Air in display test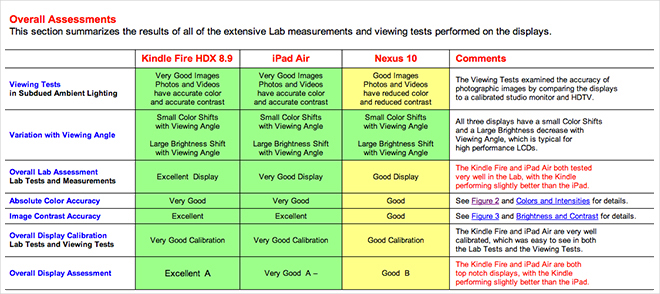 AppleInsider may earn an affiliate commission on purchases made through links on our site.
In his latest display shootout, DisplayMate's Raymond Soneira found the Kindle Fire HDX 8.9 to outperform Apple's Retina-toting iPad Air in a number of lab tests, crowning Amazon's device as the best performing tablet he has ever tested.
For his latest "Flagship Tablet Display Technology Shoot-Out," Soneira put the iPad Air, Kindle HDX 8.9 and Google Nexus 10 through a battery of in-depth tests, including brightness and contrast, color and intensity, viewing angles, and more. In the end, Amazon's tablet won out after "significantly" outperforming the iPad in multiple categories.
"Most impressive of all is the Kindle Fire HDX 8.9, which has leapfrogged into the best performing Tablet display that we have ever tested," Soneira writes.
Of note, the Kindle HDX logged a better showing than the Air in brightness, screen reflectance, high ambient light contrast and absolute color accuracy. The HDX scored a "very good" rating for the latter, despite being what Soneira calls a "very challenging" category. By comparison, the iPad managed a "good" rating, while the Nexus' performance was "poor."
Soneira points out that Amazon is using a high-quality Low-Temperature Poly-Silicon (LTPS) LCD in the HDX, the same technology seen in Apple's iPhone, but on a bigger scale. He says the HDX boasts the largest LTPS panel currently employed in a mobile device.
As for the Air, Apple has made "incremental" but significant changes and improvements over the third- and fourth-generation iPads. These include decreased reflectance, higher brightness levels and better contrast ratings. Soneira says the switch from amorphous silicon to IGZO was the "most important under the hood display improvement" for the Air, boosting power efficiency by 57 percent from last year's model.
It should be noted that the Google Nexus 10 first debuted in 2012 and is nearing the end of its production cycle. The tablet was included due to its extremely high pixel count — 2,560-by-1,600 pixels — which was the highest on the market when the device launched.