Apple 'working hard' to meet demand as Retina iPad mini goes on sale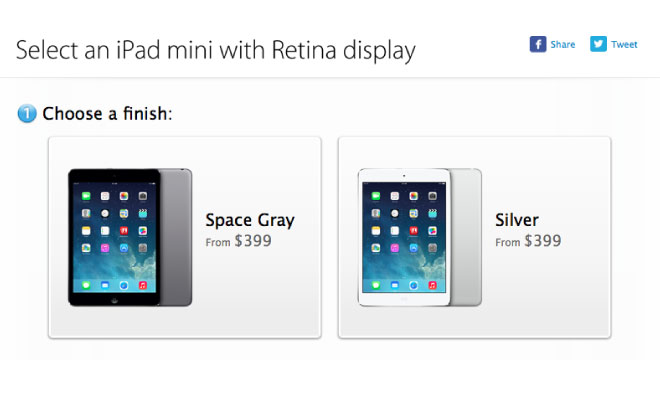 With the launch of the second-generation iPad mini with Retina display on Tuesday, supplies of Apple's new diminutive tablet are expected to be tight, though the company has pledged that it is "working hard" to catch up with strong demand.
The Retina iPad mini launched in Apple's online store earlier Tuesday, and a press release touting its availability was issued by the company later in the morning. Specifics on availability, such as whether it will be in the company's retail stores on the same day, were not provided.
"The response to iPad Air has been incredible, and we're excited for customers to experience the new iPad mini with Retina display," said Philip Schiller, Apple's senior vice president of Worldwide Marketing. "We think customers will love both of these thin, light, powerful new iPads, and we're working hard to get as many as we can in the hands of our customers."
"We're working hard to get as many (Retina iPad minis) as we can in the hands of our customers." - Apple marketing chief Phil SchillerThe hallmark feature of the new second-generation iPad mini is its high-resolution Retina display, packing in the same number of pixels as the full-size iPad Air just released earlier this month. But while the iPad Air sports a larger 9.7-inch screen, the iPad mini squeezes the same resolution into a smaller 7.9-inch display, giving it a higher pixel-per-inch count.
That high-resolution screen is believed to be the main cause of anticipated supply issues for the new iPad mini. Apple signaled during its quarterly earnings conference call last month that supply of the new iPad mini could be tight for the holiday season.
"It's unclear whether we will have enough for the quarter or not," Apple Chief Executive Tim Cook said last month. "We know how many we will have, but you really don't know the demand until you start shipping."
Cook went on to say that he expects strong sales for the entire iPad family this fall, going as far as to call it an "iPad Christmas" this year.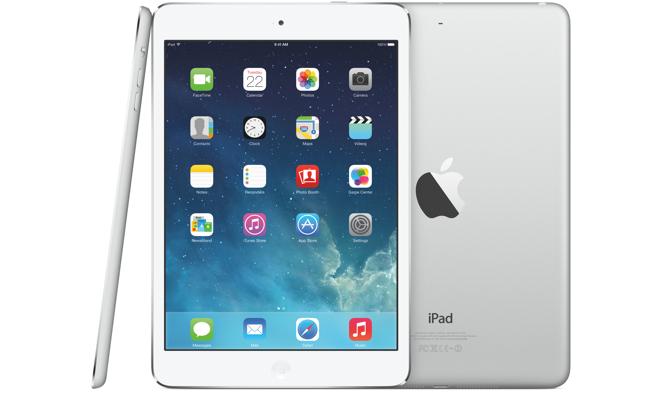 The new Retina iPad mini sports the same A7 chip found in the iPad Air and the recently released iPhone 5s, with a 64-bit desktop-class architecture. The device starts at $399 for the 16-gigabyte Wi-Fi only model, with storage doubling for $100 up to 128 gigabytes. Models with cellular radios carry a $130 premium starting at $529 for 16 gigabytes.
Apple also offers its Smart Covers for iPad mini with Retina display for $39, available in blue, green, pink, yellow, black and product (RED). The company also offers an aniline-dyed leather iPad mini Smart Case, which protects the back of the device in addition to the screen, in color options of yellow, beige, blue, brown,black, and product (RED) for $69 each.
iPad mini with Retina display is available through Apple's online store to ship, or through the company's Personal Pickup option at its retail stores — though as of Tuesday, Personal Pickup is not yet an option. The second-generation iPad mini will also be available through authorized resellers, as well as AT&T, Sprint, T-Mobile, and Verizon Wireless.