Apple starts online sales of Retina iPad mini, no in-store pickup as supply already tight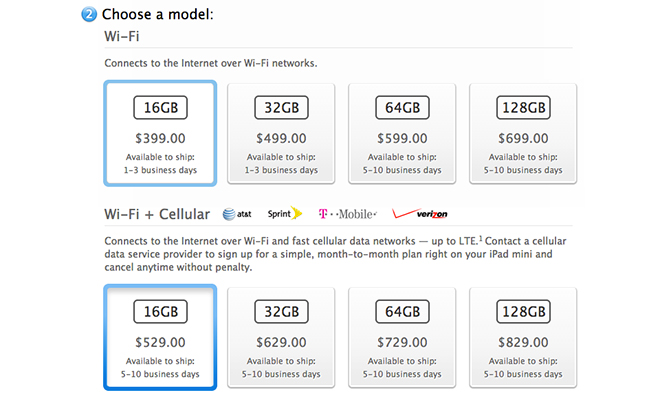 Apple on Tuesday finally put the iPad mini with Retina display up for order through its Online Apple Store, springing the tablet on customers after going over three weeks without announcing a firm launch date.
While the units just went up for sale minutes ago, it appears Apple is already seeing supply constraints of the Retina mini, as the U.S. store is showing a one to two day shipping estimate for 16GB and 32GB Wi-Fi models, while 64GB, 128GB and all Wi-Fi + Cellular versions ship in five to ten days. It is unclear when in-store pickups will be initiated, but for now it does not appear to be an option.
Prices start at $399 for a 16GB Wi-Fi model, $499 for 32GB, $599 for 64GB and $699 for the new 128GB option. Apple's Wi-Fi + Cellular versions start at $529 for the lowest capacity 16GB model and move up in $100 increments, topping out at $829 for 128GB of storage.
Instead of announcing the launch publicly, Apple quietly kicked off online sales at midnight Pacific in the U.S., indicating supply levels may not be high enough to sustain an expect influx of early adopters. Apple CEO Tim Cook hinted at possibly tight inventory in late October, saying, "It's unclear whether we will have enough for the quarter or not."
On Monday, Apple sent a notification to technicians and resellers through its GSX website, informing them that the Retina mini would go on sale today in Australia, China, Hong Kong, Japan, New Zealand, Singapore and the United States. The device is indeed now for sale in the Online Apple Stores in those locales, as well as a few others, though in-store availability is unknown at this time.
Late last night, the company took its online storefront down for maintenance and reopened with the much-awaited tablet up for sale.
Aside from putting the Retina iPad mini in a prominent position on the first page of its online store, Apple spruced-up the website's design in preparation for the holidays, including custom ads targeting Christmas shoppers.
While reviews have yet to come out for the iPad mini with Retina display, AppleInsider was able to take a hands-on look at the device when it was unveiled last month. Also, if you are in the market for a new iPad, don't forget to lock in a high payout rate now to trade in your old iPad or iPad mini for cash.