Topsy purchase gives Apple access to Twitter data Google doesn't have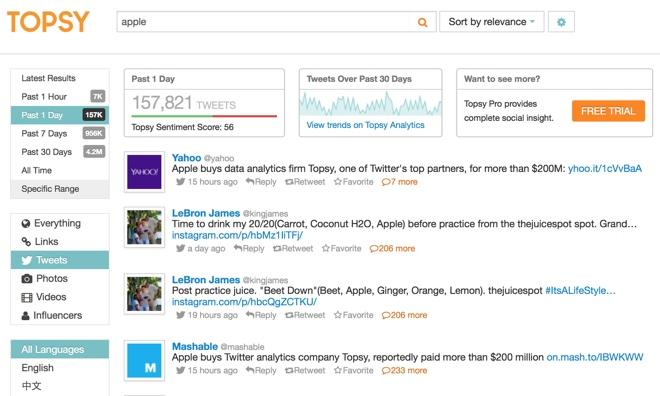 AppleInsider may earn an affiliate commission on purchases made through links on our site.
While the exact purpose behind Apple's newly announced acquisition of social media data firm Topsy remains unknown, the acquired company is one of a handful of firms with access to exclusive data from Twitter the likes of which Google does not have.
Search giant Google formerly had access to detailed Twitter data, but the agreement between the two companies was severed in 2012. But Twitter has maintained partnerships for its so-called "firehose" of data with smaller search partners such as Microsoft's Bing, which announced an extended agreement with the social networking site in November.
Now, with its confirmed purchase of Topsy, Apple enters into an exclusive club of companies with access to highly detailed data from Twitter.
Along with Gnip, Data Sift and NTT Data, Topsy is one of four "certified data resellers" with exclusive rights to collect and resell Twitter data, according to The Wall Street Journal. Those four companies are responsible for the majority of the social networking site's data revenue.
Companies like Topsy can resell the data to "hundreds of smaller software analytics firms," the report said. To maintain the elite relationship with Twitter, the companies must audit their clients, ensure that user's real names are not revealed, and help crack down on spam on the site.
"Though Twitter's data is public, the sheer volume of tweets — roughly 500 million a day — means that only companies with sophisticated software and storage capabilities can analyze it," reporter Elizabeth Dwoskin wrote.
The agreement to purchase Topsy is key because Apple's chief rival in the mobile software space, Google, does not have access to such data from Twitter. That could allow Apple to improve its search algorithms, whether for its Siri personal assistant or for discovering data in its iTunes Store or App Store, in ways that Google cannot.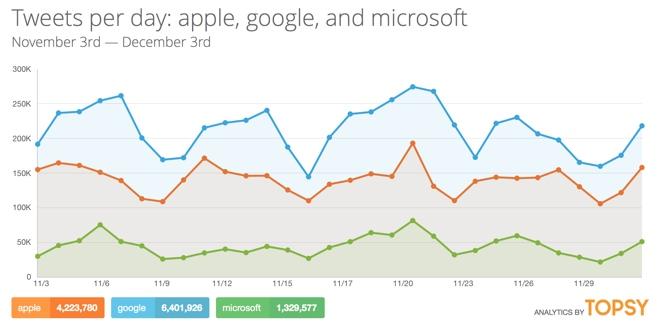 Apple's purchase of Topsy was revealed on Tuesday, with a reported price of over $200 million. The company confirmed the acquisition with a typical boilerplate statement declining to reveal its "purpose or plans."
Beyond search, it's been suggested that Topsy could be applied to Apple services such as iTunes Radio, allowing it to help identify and recommend artists or songs based on Twitter trends. It's also been suggested that Apple could offer real-time analysis of market trends to sell advertising on its iAds platform.
Data from Topsy could also help Apple better identify trends for mobile applications, allowing the company to better recommend and discover new software options from the iOS App Store.
The company bolstered its App Store search results last year with the acquisition of Chomp, a mobile application search engine. Chomp's card-like search results layout was introduced that same year in iOS 6.
Other confirmed acquisitions from Apple since August alone are PrimeSense, makers of the motion tracking technology behind Microsoft's original Xbox Kinect; Cue, a personal assistant app for iPhone; AlgoTrim, a Swedish data compression company; Embark, a transit data provider; Matcha.tv, a second-screen startup; and Passif Semiconductor, a power-efficient chipmaker.