Mac Pro teardown finds easy disassembly, great potential for repairs & upgrades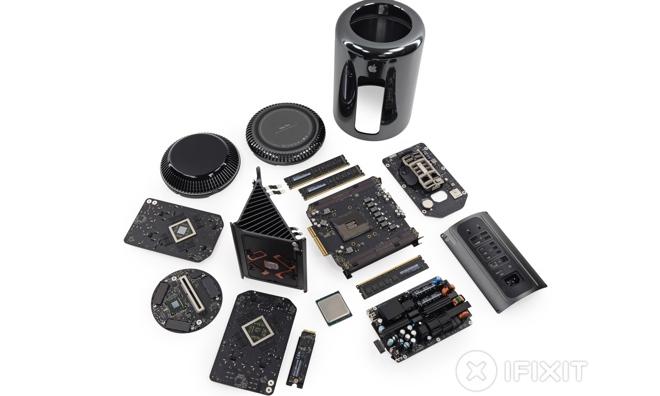 Another dissection of Apple's new cylindrical Mac Pro has once again discovered that despite its unique design, the parts inside the desktop can be easily accessed, repaired or upgraded if need be.
iFixit took its traditional deep look at the latest Apple hardware on Tuesday, offering readers a peek inside the new Mac Pro. While the solutions experts are often critical of Apple hardware for being unrepairable, they came away with a favorable impression of the redesigned Mac Pro.
"For being so compact, the design is surprisingly modular and easy to disassemble," the said, giving the late-2013 machine a "repairability score" of 8 out of 10. "Non-proprietary Torx screws are used throughout, and several components can be replaced independently."
Among those components that can be easily accessed is the RAM, which can be quickly upgraded upon taking the exterior off the Mac Pro. The system's solid-state drive, meanwhile, can be taken from the desktop after removing just one screw.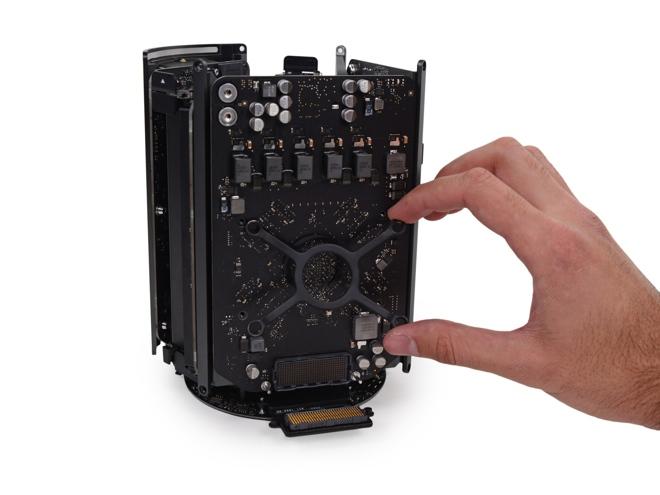 iFixit also found that the central fan on the Mac Pro, which is key to the device's cylindrical design for quiet cooling, is easy for users to access and replace.
Like a separate teardown that was published last week, iFixit also found that the new Mac pro has a socketed, removable Intel CPU. That means future upgrades of the processor could be possible, though the repair experts noted that it does require "a bit of digging" to access the CPU.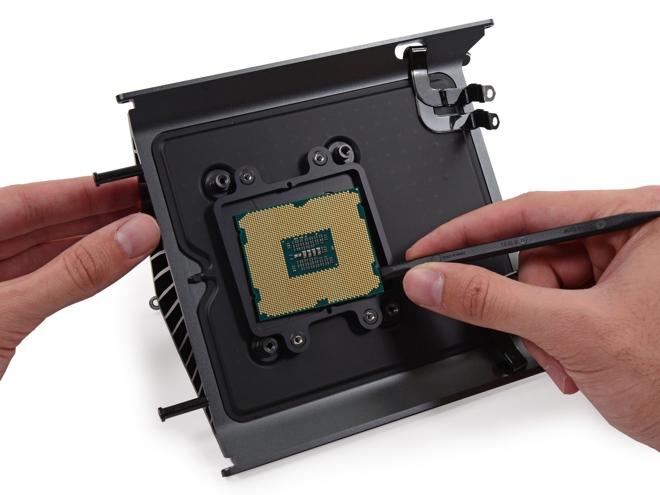 The small design of the Mac Pro means there's no internal room for another hard drive, but Apple has addressed these concerns by including six high-speed Thunderbolt 2 ports on the rear of the machine.
Finally, the teardown also discovered that although the Mac Pro features dual AMD FirePro D300 graphics processors, one of the cards was made in China, while the other was manufactured in Taiwan. This is because the Taiwan-made GPU hosts the slot for the machine's solid-state drive.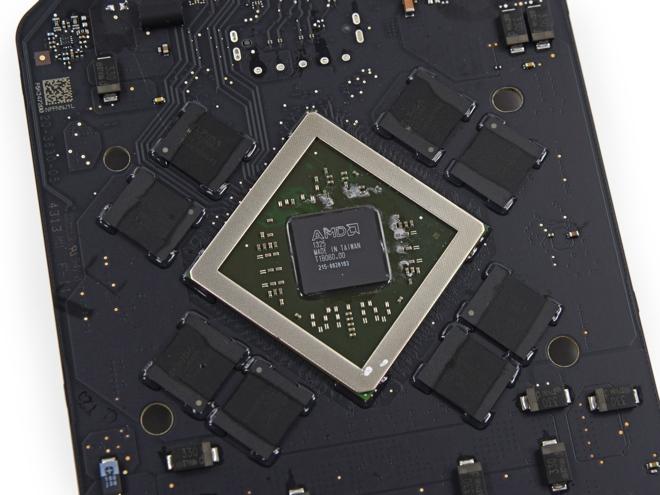 "This seems to us like a potential opportunity for expansion — perhaps higher storage configurations make use of two of this variety, for doubling up on SSDs?" they speculated.
The teardown took a look at the entry-level $2,999 model, which features an Intel quad-core Xeon E5 chip running at speeds up to 3.9 gigahertz, 12 gigabytes of 1866-megahertz DDR3 ECC memory, dual AMD FirePro graphics with 2 gigabytes of GDDR5 VRAM, 256 gigabytes of PCIe-based flash storage, and 802.11ac Wi-Fi with Bluetooth 4.0.