Apple's domestic Mac sales surge 28.5% as overall PC market shrinks 7.5% [u]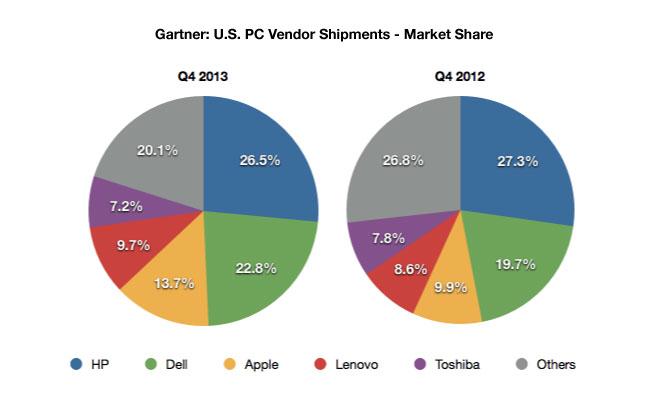 U.S. Mac sales spiked 28.5 percent year over year in the just-concluded fourth quarter of calendar 2013, according to the latest figures from Gartner, giving Apple a 13.7 percent share of its home market while the rest of the industry continues to struggle.
Apple's nearly 30 percent year over year growth stood in contrast to the 7.5 percent drop that the overall PC market saw in the U.S. during the holiday quarter. Gartner's estimates suggest Apple shipped nearly 2.2 million Macs domestically in the December frame, giving it a 13.7 percent share and putting it in third place.
It was a much petter performance for Apple than a year ago, when the company accounted for just 9.9 percent of U.S. PC shipments. Apple's holiday 2012 quarter was marred by serious delays for its revamped iMac desktop, with most orders not shipping until early 2013.Apple's turnaround in the December quarter is significant, as the company has seen Mac shipments shrinking in recent quarters with consumers turning to alternative products like the iPad.
Apple's performance placed it behind only HP, which had a 26.5 percent estimated share and fell 10.3 percent, and Dell, which grew 7.4 percent year over year and represented 22.8 percent of the U.S. market.
Apple finished ahead of fourth-place Lenovo, according to Gartner, which grew 3.5 percent and held an estimated 9.7 percent share of shipments. In fifth place was Toshiba with an estimated 7.2 percent, off 13.9 percent year over year.
The biggest losses in the PC market came for vendors outside of the top five: They saw shipments fall an average of 30.4 percent in the quarter, Gartner's estimates suggest. Total U.S. PC shipments for the quarter were pegged at 15.8 million.
The figures are in line with data released last month by the NPD Group, which showed holiday Mac sales on pace to see a 29 percent year over year increase from the holiday 2012 quarter. The data also marks an important turnaround for Apple, as the company has seen Mac shipments shrinking in recent quarters, with consumers increasingly turning to more affordable and portable options like the iPad and competing tablets.
In the previous September quarter, Gartner pegged U.S. Mac sales with a 2.3 percent year over year drop. Competing research firm IDC had estimates that saw a more dramatic domestic slide of 11.2 percent.
Total Mac sales would prove to have been down 7 percent worldwide in the quarter, Apple announced weeks later. While sales were sliding, Apple was still outperforming the overall PC market, which saw sales drop 10 percent year over year in the September frame.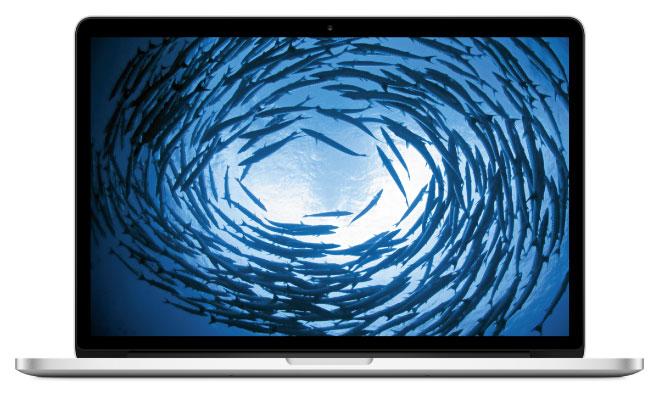 Unsurprisingly, Apple did not crack the top five estimated vendors on Gartner's worldwide data, so its global performance remains unknown. Total worldwide PC sales are forecast to have fallen 6.9 percent year over year in the December frame, according to the data released on Thursday.
Gartner's data shows Lenovo as the top worldwide PC vendor for the quarter, with an 18.1 percent market share. That's followed by HP (16.4 percent), Dell (11.8 percent), Acer Group (7.8 percent) and Asus (6.5 percent). Total worldwide PC shipments for the holidays are estimated at 82.6 million.
Update: Research firm IDC has also posted its preliminary numbers, which saw Apple lose 5.7 percent of its U.S. marketshare during the fourth quarter to fall to fourth place behind Lenovo. Apple's dropped 3.3 points year-over-year, but managed to hold on to its third-place spot.
According to the firm, Lenovo and Dell were the only two companies to come away with positive growth in the U.S. for quarter four. Lenovo was also the only manufacturer to see full year gains.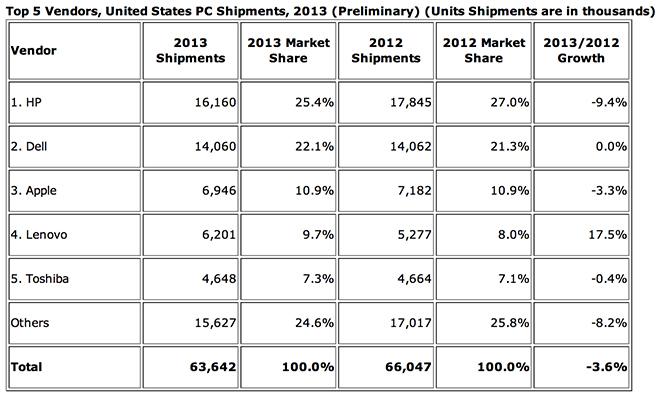 Overall, IDC agreed that PC shipments fell during the quarter, though not at the same magnitude as Gartner's estimates. Worldwide, IDC saw PC shipments slump 5.6 percent, while the U.S. market dropped 1.6 percent year-to-year.