Apple looking to ramp production of new 'critical' sapphire component in U.S. by Feb.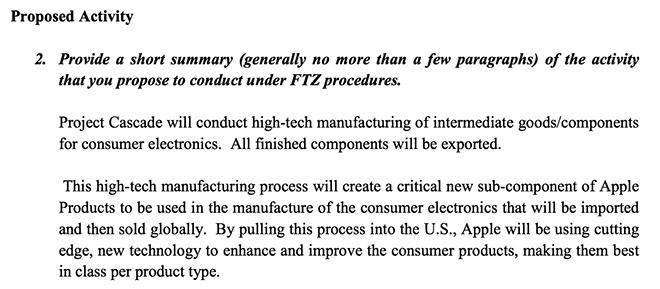 Documents made public on Wednesday reveal Apple and manufacturing partner GT Advanced Technologies are pushing to open an advanced sapphire production facility in Arizona by the end of February, which will handle a new "critical subcomponent" to be incorporated in a future Apple product.
The new information was discovered in a foreign trade zone application packet sent by Apple and the City of Mesa, Arizona to U.S. Foreign Trade Zone Board executive secretary Andrew McGilvray. While not a detailed overview of Apple's plans, the documents offer insight into its sapphire component initiative with partner GT Advanced.
First uncovered by analyst Matt Margolis (via 9to5Mac), the application offers a brief overview of a previously-announced Apple-GT Advanced joint venture dubbed "Project Cascade." From the information provided, the facility looks to be a manufacturing plant that will handle production of sapphire subcomponents bound for Apple products.
As noted in the original document above, the sapphire part will supposedly be "new." Speculation points to either a replacement part for current hardware, like an iPhone screen, or something never before seen in an Apple device. The latter implementation would be in line with recent rumors claiming Foxconn successfully completed a round of iPhone prototypes featuring sapphire-covered displays.
In an interview last week, Apple CEO Tim Cook was pressed on possible sapphire applications including a sapphire screen, but expectedly dodged the subject. Instead, the executive joked that Apple's next use of sapphire would be an "iRing," alluding to offbeat speculation from analyst Brian White.
Apple first experimented with manufactured sapphire in the iPhone 5's camera lens cover, a small part of the handset's build. With the latest iPhone 5s, the hardened material is being deployed in a more critical and functional role as a cover to the Touch ID fingerprint sensor.
According to the application's description, 100 percent of all sapphire goods produced at the Mesa, Ariz., factory are tagged for export to foreign device assemblers.
The application seeks interim approval for an "aggressive" ramp to production within the Mesa foreign trade zone and notes Apple has already met with U.S. Customs and Border Protection to discuss the short turnaround. By applying for a subzone designation, Apple is prepping to go "live" in February.