Pebble opens doors to app store with over 1K apps and watch faces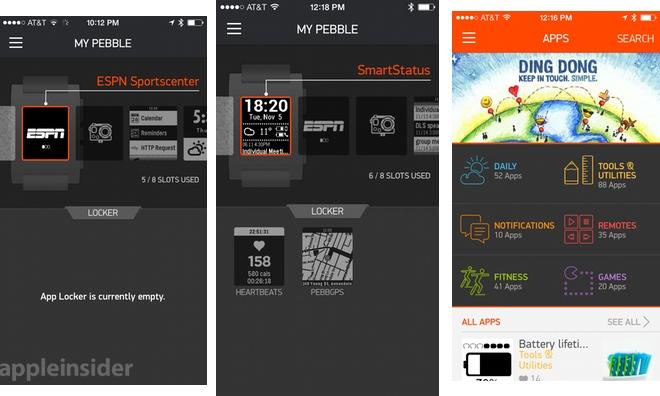 Following the launch of its "Steel" series smart watch lineup last week, Pebble on Monday rolled out a version update for its eponymous iOS app, granting the wearable devices access to a new custom-built app store already populated with more than 1,000 titles.
In a brief overview of the brand new Pebble app store on Friday, AppleInsider noted that the service was slated to launch alongside the Pebble 2.0 update last week. Unforeseen setbacks delayed the release, but the company has announced all assets are online and functioning.
Divided up into categories like Remotes, Daily, Notifications, Tools & Utilities, and Fitness and Games, the app store-within-an-app lets iOS users interact with Pebble hardware on a much deeper level than just reading push notifications and alerts. Developers now have access to powerful APIs that leverage the onboard processing power and communication suites of Apple's iOS devices.
Despite having just opened, the store has been well curated and carries a wide range of titles, many of which have been available via third-party databases databases. From a GPS app that pushes map images to the wrist, to a remote control for Nest's thermostat, to tools for converting currencies and posting tweets, the Pebble app store is well stocked.
Along with independent developers, Pebble has a number of "flagship" partners, which at launch include Foursquare, Yelp!, GoPro and ESPN.
Most apps are integrated, meaning they can be installed and controlled directly by the new Pebble app. Some require users to download and run a companion app from the iOS App Store. Pebble has so far tagged these non-integrated apps in a clear manner.
While a good number of apps are available at launch, a few titles we saw at CES are not yet in the library. An app that controls the door locks on a Mercedes-Benz vehicle and a Pandora remote control are two notable examples of upcoming additions. The software will likely appear in the store at a later date alongside a bevy of apps not yet publicly announced.
Pebble's app store is compatible with all Pebble watches, from the earliest Kickstarter-backed units to the newly-shipped redesigned Pebble Steel watches equipped with Gorilla Glass.
The Pebble app store is accessible within the Pebble 2.0 iOS app, a free download from the App Store. At press time, the update was still rolling out across the iTunes network.