DOJ chastises Samsung over use of SEPs as litigious weapons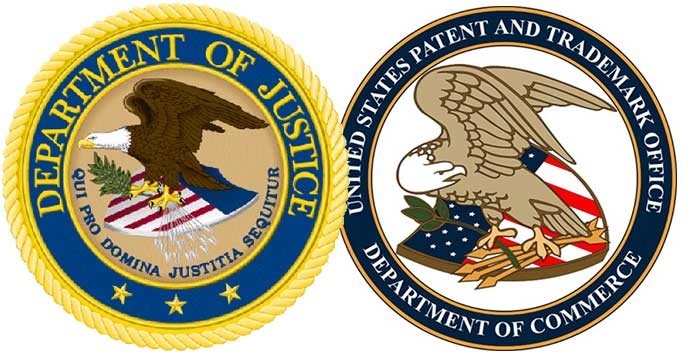 AppleInsider is supported by its audience and may earn commission as an Amazon Associate and affiliate partner on qualifying purchases. These affiliate partnerships do not influence our editorial content.
The U.S. Department of Justice on Friday said it will close an investigation into Samsung's use of deemed standard essential patents as a weapon against other corporations, but promises to monitor the company's ongoing patent litigation.
While the Justice Department will not take action against Samsung at this time, it did admonish the company's use of declared essential patents as tools to more favorable licensing terms, reports Reuters.
In a statement released by the DOJ, the agency noted a number of issues arise when using SEPs to block competition from selling products. This brings up questions regarding anticompetitive strategies.
"While there are certain circumstances where an exclusion order as a remedy for infringement of such patents could be appropriate, in many cases there is a risk that the patent holder could use the threat of an exclusion order to obtain licensing terms that are more onerous than would be justified by the value of the technology itself, effectively exploiting the market power obtained through the standards-setting process."
The DOJ and U.S. Patent and Trademark Office said in January that companies owning SEPs should "rarely" use the properties in court.
Friday's announcement, and ensuing DOJ invetigation, stems from a successful Samsung patent infringement complaint leveled against Apple through the International Trade Commission. In that case, Samsung's U.S. Patent U.S. Patent No. 7,706,348 for UMTS wireless technology was leveraged to win an exclusion order against older iPhone and iPad models.
Apple was granted a reprieve from the injunction, however, as President Barack Obama vetoed the ITC decision in August 2013 over concerns that SEPs would be used to gain "undue leverage" over competitors.
Based on that decision, the DOJ said, "The Antitrust Division is therefore closing its investigation into Samsung's conduct, but will continue to monitor further developments in this area."
Samsung's use of SEPs in patent suits with Apple and other tech companies has raised concern in a number of regions over the strategy's legality. For example, the European Commission and South Korea's Fair Trade Commission initiated probes into Samsung's legal operations.